From Daniel Defense . . .
To honor the service of our nation's military and law enforcement professionals, Daniel Defense—manufacturer of the world's finest firearms and accessories—has released a new Global War on Terror (GWOT) rifle package. This commemorative rifle package is available for purchase only by active-duty and retired military and law enforcement professionals, U.S. veterans, and those who diligently and selflessly served our nation in times of need.
"This is our way of honoring and thanking the brave men and women who serve—and have served—this great country of ours," said Daniel Defense Founder/Executive Chairman Marty Daniel. "The GWOT rifle package is available exclusively for military and law enforcement customers and won't be offered to the general public. It's an upgrade of our best-selling M4A1 RIII at a special price point."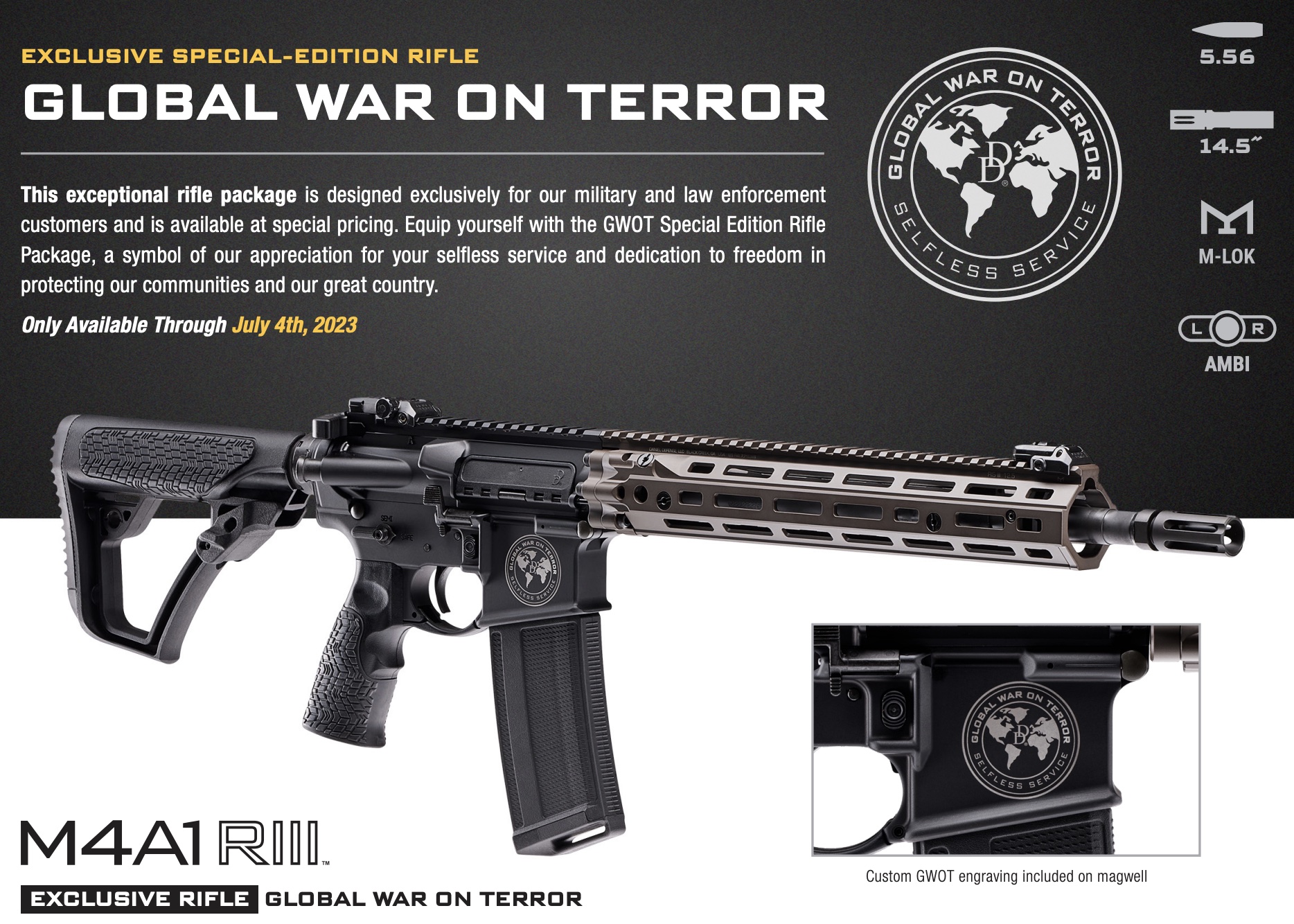 Upgrades include a Blue Force Gear Vickers Sling, Magpul MBUS Pro flip-up sights, a Mil-Spec Flat Dark Earth (FDE) Cerakote finish on the rifle's RIII rail instead of anodizing, custom Global War on Terror engraving on the lower, and a matching commemorative challenge coin. The rest of this exclusive rifle chambered in 5.56mm NATO is all M4A1 RIII and includes the features beloved by military and law enforcement customers, including a 14.5" Cold Hammer Forged Barrel; a reliable Mid-length gas system; ambidextrous safety, magazine release, and bolt catch; a GRIP-N-RIP Charging Handle; and a lightweight but durable 12.5" RIS III rail/handguard with popular M-LOK attachment. You get all this for a price less than a standard M4A1 RIII—but only if you're a military or law enforcement customer.  
To see pricing and order the GWOT rifle package, you must first create an account and provide your military or law enforcement credentials or proof of service to [email protected]. The rifle goes on sale June 6, 2023, and the sale runs through Independence Day, July 4. 
To learn more or purchase the GWOT commemorative package, visit: DanielDefense.com/GWOT
Read full article here