If there was one piece of kit that has sold me on Pnuma Outdoors, it's their Chisos Day Pack. For a bit over a year I've carried this pack on planes, in big trucks and bakkies and on my back for dozens of trips and hunts all over the US as well as southern and western Africa. I take it everywhere.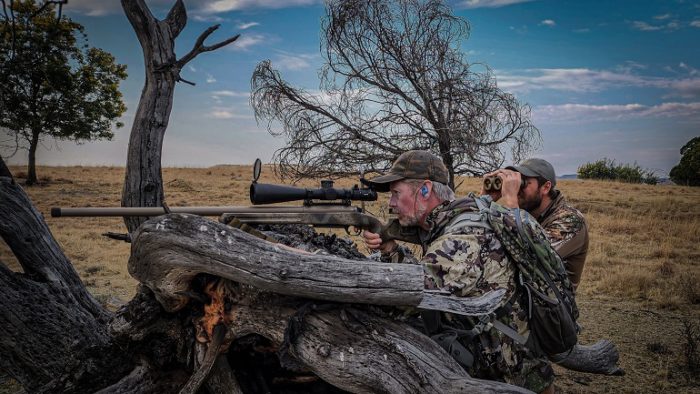 The Pnuma Outdoors Chisos Day Pack is the best I've ever owned. It's durable, comes in the Caza camo pattern (solid grey too) and is built with some of the smartest features I've found on the market.
The pack includes a 5″ wide and well-padded waist strap. This attaches to the pack with both hook and loop as well as a strap and buckle. The waist strap also includes two zippered pouches on each side for small accessories. That's cool, but nothing new.
Inside the day pack you'll find a handy 9″x5″ accessory pack. It's double zippered and the internal pocket is usually where I carry a spare battery pack and assorted electronics, but it can also hold a full size 1911 or GLOCK 17. Again, good, but nothing to write home (or on TTAG) about.
The interesting feature is that, since both the waist strap and the accessory pack are removable, they also combine together to Voltron a lightweight lumbar pack. That gives you the accessory pack plus the two small waist strap pockets in a very lightweight and easy to access format.
As handy as that sounds, it's a feature I never used. I like carrying a gun on my hip and any padded waist strap gets in the way. I removed it immediately and never looked back. If I was going to be carrying a more significant load, even as little as 30 lbs., I'd keep the waist strap on and be grateful for the creative features.
There are just so many things about this bag that were done right.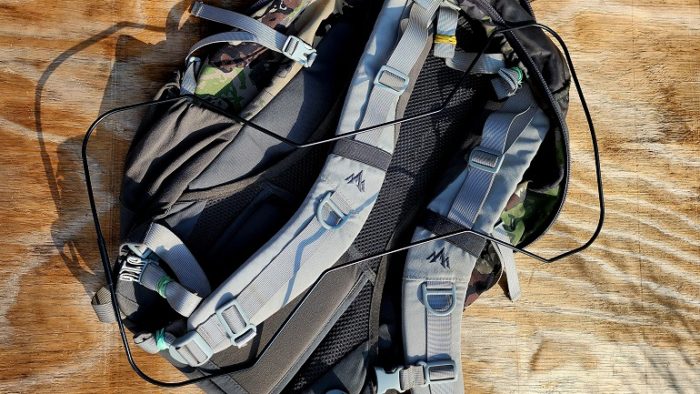 First, the solid wire frame is wide, but simple and easy to remove and replace. Wire frames in day packs are nothing new. They help the bag keep its shape and also keep the bag from hugging the back too tightly in order to get a bit of airflow to the wearer. Unfortunately, many companies either sew these frames into the packs or make them almost impossible to get in and out. That limits the use of the bag.
With the frame in the Chisos Day Pack, you not only get the traditional benefits, but since the frame has a wide, flat top, you can use the bag as a stable platform to shoot from. I'm a pretty avid handgun hunter and the vast majority of the shots I took in the field last year were off this pack for that very reason.
The downside to the frame is that it significantly reduces the volume of the inside of the pack. With the frame installed, you can fit a thick insulating layer, a meal, your hydration bladder, a smaller emergency kit, a few little things like a box of ammo, and then maybe a bit more, but not much. That's plenty for the day of the hunt.
But Pnuma has made it pretty easy to simply zip open the top and pull the frame out. Once out, the inside of the bag increases by at least a third. When I travel abroad, I use the Chisos Day pack as my carry-on and store the frame in my checked luggage.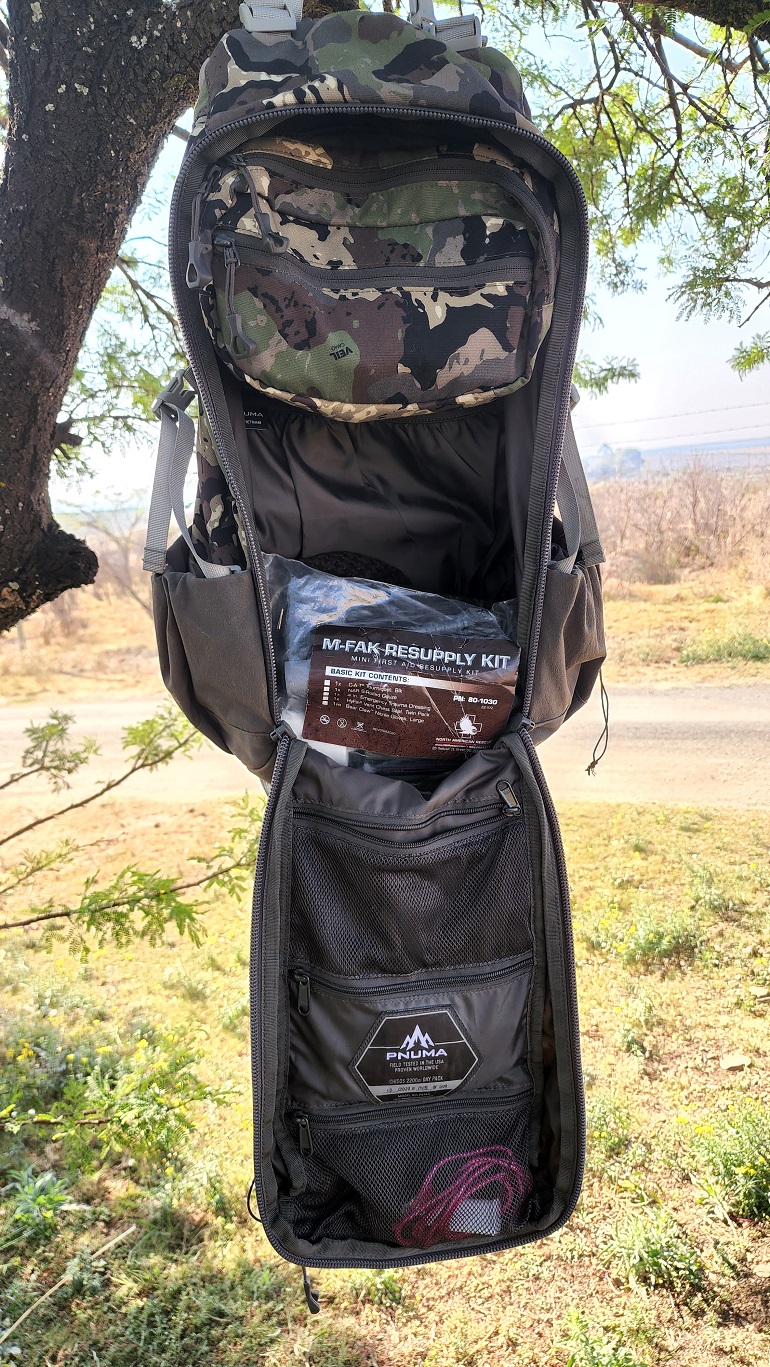 Check out the orientation of the interior pockets once the bag is opened. With the bag fully opened, the pouches open toward the top of the bag, opposite of how most other bags orient their zippers. That allows the user to hang the bag and use it as a standing cabinet, or, in my case, an aide station during some volunteer work throughout southern Africa.
And another thing, the loop hanger on most packs has been replaced with a long strap and a buckle. That means you can wrap it around a tree to support the bag, or as I often do, open it up and close the strap in the top of the truck door on hunts.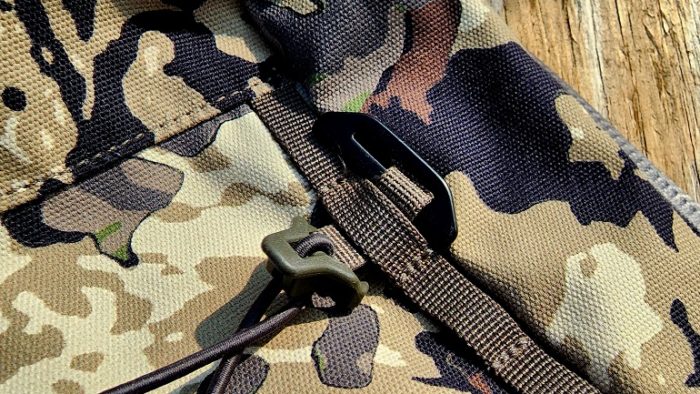 The one thing I don't like about the pack is how the exterior shock cord attaches to the bag. Simple aluminum toggles hold it to the bag, passed through a pair of daisy chains on the front of the bag.
The cord itself is great, and so are the daisy chain loops. The fact that the cord is adjustable is even better. When it's loaded, with say a lightweight tripod or a rain jacket, everything's just fine. But when it's unloaded, with some slack in the line, the simple toggles tend to work themselves out of the daisy chain.
It's not a big deal, but it can be annoying as the free cord then tends to get caught on things. One of these days I'll remove the toggles and replace them with carabiners.
Beyond that, the Chisos Day pack has all the bells and whistles you'd want from a pack you'd bet your hunt on. It's got Aquaguard zippers and is made from Cordura 560D Nylon with a waterproof coating that actually works. The shoulder straps are well padded and textured to stay in place. The sternum strap buckle is adjustable and doesn't dig into your chest.
The side pouches are plenty big enough for a liter water bottle and they cinch down tight. It's durable enough that over a year of hunting in some of the thorniest places on Earth hasn't put a single cut or hole in it.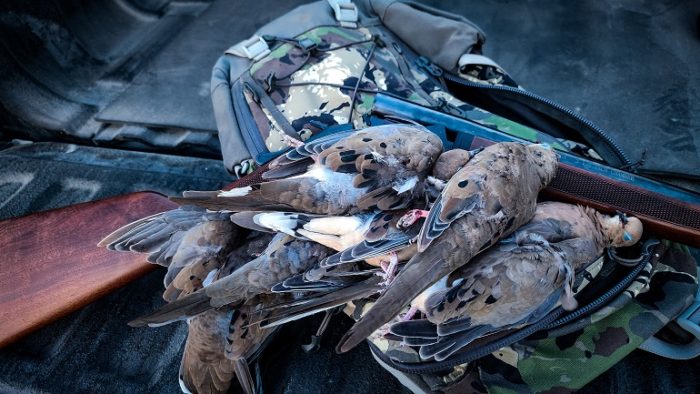 Pnuma is usually pretty proud — pricewise — of their gear. So far, I think it's all been worth the outlay, but the Chisos Day Pack is the exception. If anything, at $200 retail (less if you look around), it's underpriced. I've come to rely on this pack for just about every hunt for the last year, and I don't see that changing anytime soon.
SPECIFICATIONS: Chisos Day Pack
Size:1800 cubic inches
CORDURA 560D Tactical Nylon with PU waterproof coating
YKK AquaGuard Water Repellant Zippers
Stretch mesh panel on an aluminum frame provides ventilation and support
Zippered full-length spotting scope pocket
Buckle strap hanger to hang the pack from tree limbs or automobile headrest
(3) zippered organization pockets inside front flap for quick drop down access
Shock cord organizer with aluminum toggles and daisy chain attachment
Side stretch pockets for water bottles, shooting sticks or other accessories
Side and bottom compression/mounting straps
Hydration reservoir compatible
Wide, heavily padded waist belt with convenient forward pull waist belt adjustment and large zippered pockets
Heavily padded shoulder straps with adjustable sternum strap and load lifter straps
Non-slip silicone print inside waist belt and shoulder straps
Weight: 54.4 ounces
Price: $200.00 (about Chisos Day Pack)
Rating (out of five stars):
Overall * * * * ½
I started using Pnuma clothing and gear because I liked some of the clothing and their headquarters was close to my house so I could try out everything before I bought it. At this point, I'm pretty sold on the entire brand. The Chisos Day Pack is just one more example of an extremely well thought-out piece of kit from a company I've really come to trust. Half a star off because I don't like the shock cord attachment.
Read full article here