Pistol optics are the thing these days. And not just in "tactical," duty, or home defense size guns. Optics-readiness is increasingly a feature that people who carry everyday want in their pistol and gun makers have responded to the demand. Just about every EDC semi-auto pistol you're likely to consider buying or carrying now comes with an optics cut standard or as an affordably-priced option.
Optics makers, not being blind or disinterested in the profit motive, have acted accordingly, turning out a raft of excellent products in every footprint imaginable, giving those who tote a gat daily plenty of options in red dot illumination. Clearly among the best of the bunch that we've seen so far is SIG SAUER's ROMEOZero Elite 1x24mm red dot sight.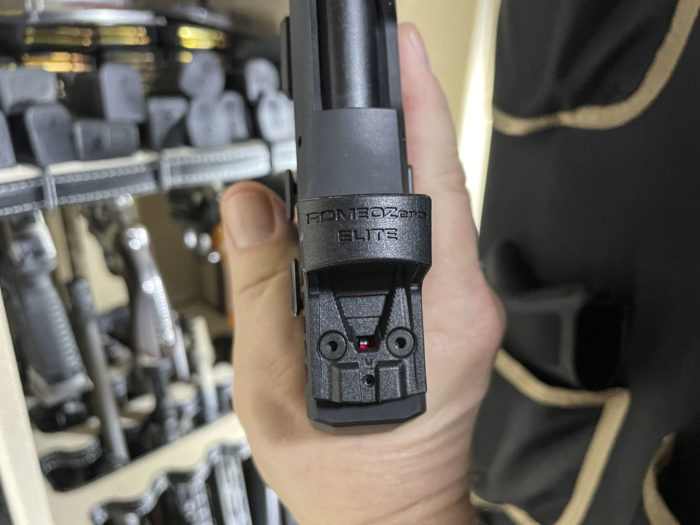 The US-made ROMEOZero Elite is small and made for micro-compact EDC pistols like — surprise! — the ultra-popular P365. The ROMEOZero Elite is built on the Shield RMSc/J-point footprint which, naturally mounts on SIG pistols.
Because SIG is smart enough to know who's buying what, they also ship the ROMEOZero Elite with screws for the Hellcat OSP and GLOCK 43X MOS as well. You can, of course, buy adapter plates to mount the sight on pistols with other footprints like RMR, Docter/Noblex, whatever.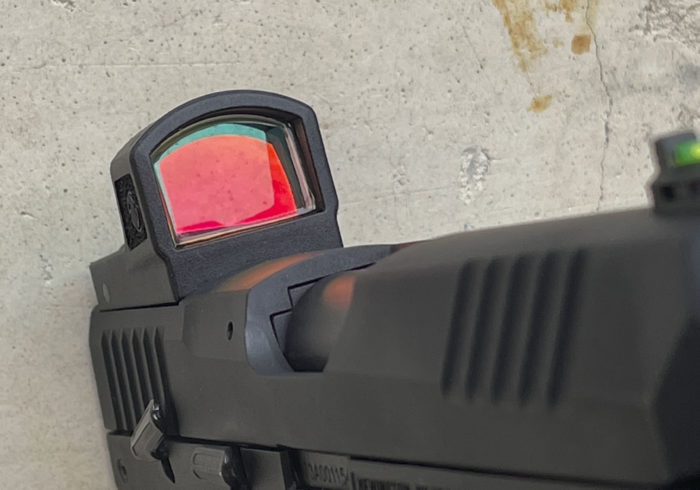 Unlike most micro red dot sights, the ROMEOZero Elite uses a coated glass lens. Glass is more scratch-resistant and generally considered to have better clarity and freedom from distortion over plastic lenses, but I haven't seen a huge difference in my experience. That said, there's no question that glass is generally preferable in a red dot sight.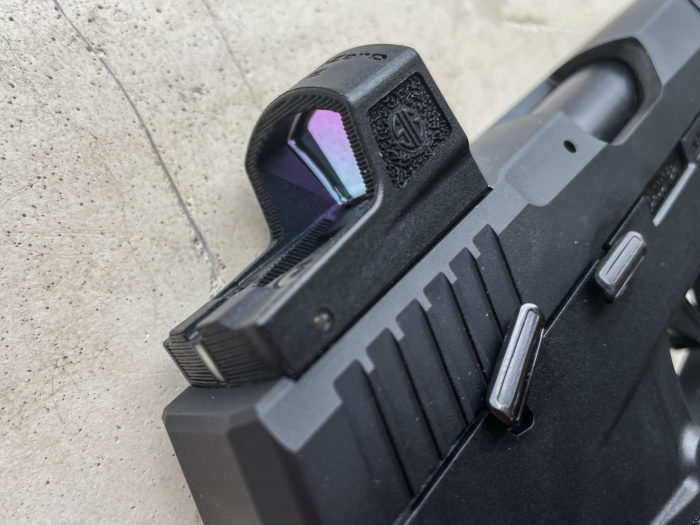 No question, the ROMEOZero Elite is small. It's made for use on micro-compact EDC pistols and its diminutive form factor makes that evident.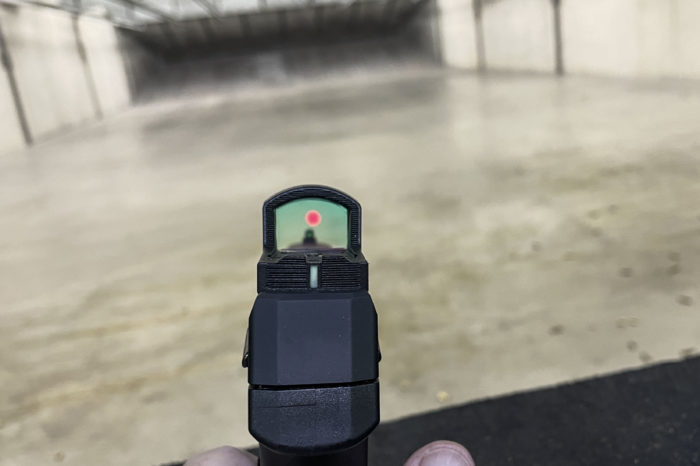 I don't have a P365, so mounted the ROMEOZero Elite on SIG's P322 rimfire pistol. The sight is just one inch wide and a fraction under one inch tall, perfect for use on everyday carry pistols like the P365, Hellcat, GLOCK 43X MOS…you name it.
The ROMEOZero Elite actually comes in two version. The first has a typical 3 MOA dot. The second model gives you a 2 MOA dot inside a 32 MOA circle. Think of the much-loved "donut of death" reticle popularized by EOTECH.
Because I couldn't seem to get good photos of the reticle options, I've included SIG's helpful graphic below.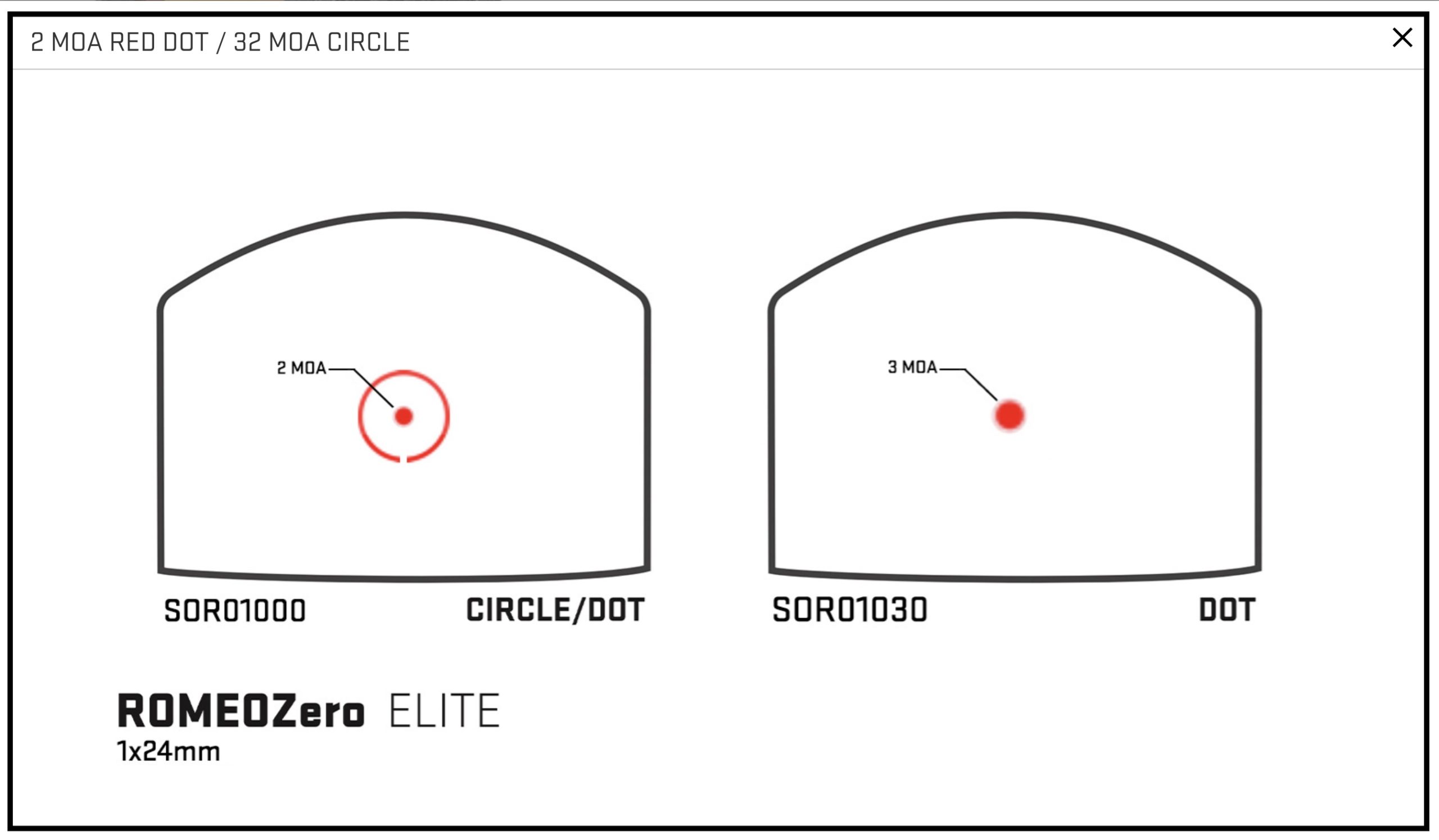 The circle/dot model lets you choose between the 2 MOA dot, the 32 MOA circle, or use the together. My version is the circle/dot model and I tend to use the combination of both. The circle/dot model will cost you $17 more than the 3 MOA dot version.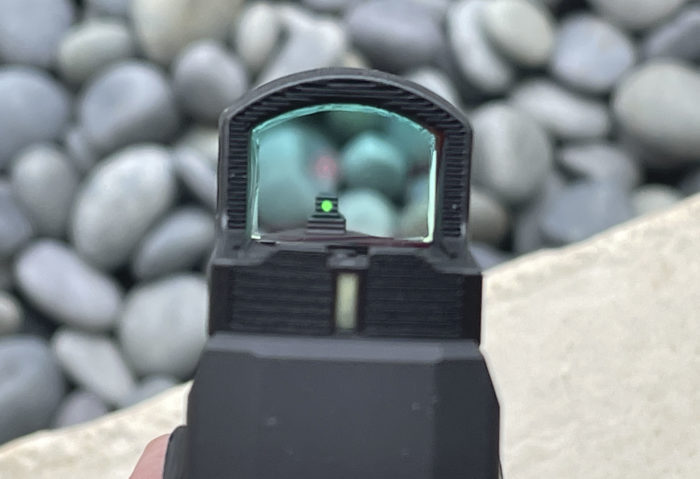 Naturally, you're likely to mount the ROMEOZero Elite on an EDC pistol. That means it's most likely to be used a close range. But should the need arise, that circle/dot option gives you the the ability to stretch your effective range out further than you'd probably be able to with a standard 3 MOA dot alone.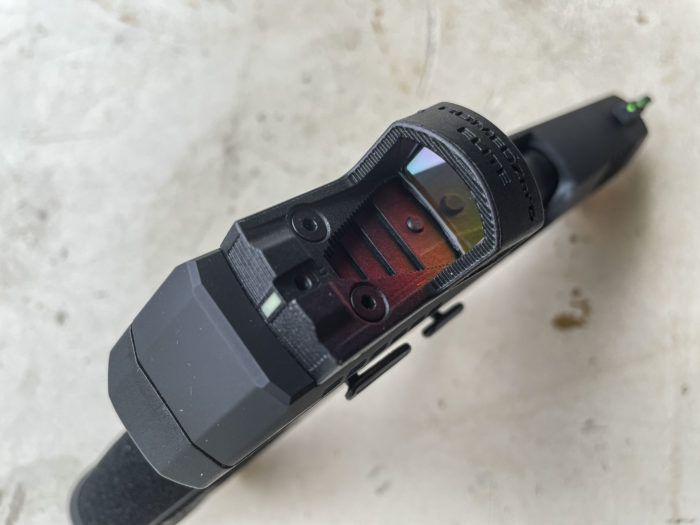 The ROMEOZero Elite has SIG's TAP (touch-activated programming) for adjusting the reticle type and brightness. There's a small button just behind the glass. Hold it down for five seconds and the reticle with blink (you can use a finger, but I use a pen, a small screwdriver or something similar to get at it). You can then choose the brightness level you want by just tapping the housing.
If you hold the button down for over seven seconds, that shifts it into reticle selection mode. Again, tap the housing to get the reticle you want. Don't touch the sight for five seconds after you get the brightness and reticle you like and the setting will be locked in.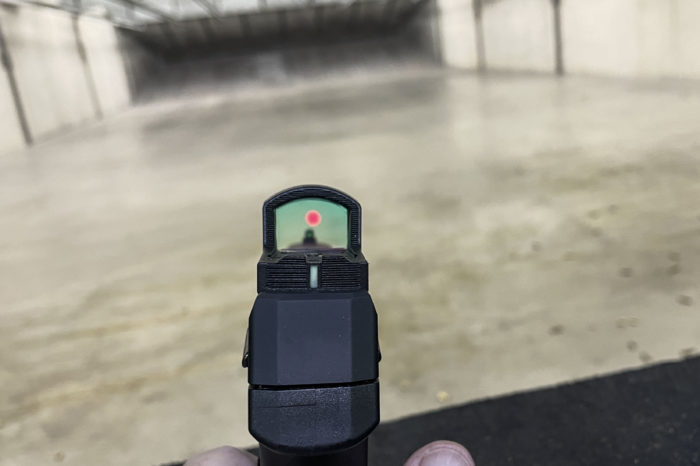 SIG has added a rear index mark below a notch on the rear of the ROMEOZero Elite. It's made of something they call SuperLuminova. It's basically glow-in-the-dark paint that remains visible in low light for a couple of hours after exposure to light. If the battery runs own or the optic fails for some reason, you can easily use that rear index mark with the pistol's front sight to get on target.
As a practical matter, battery life won't be an issue for most users. The ROMEOZero Elite has SIG's "MOTAC" motion-activated sensor that powers up the sight when it's moved and powers it down when doesn't.
That said, your battery isn't likely to die on you with basic maintenance (i.e., changing your battery every year on January 1, your birthday, national talk like a pirate day, whatever). The sight is rated at 20,000 hours of use — that's over two years — at low to medium intensity brightness using the dot alone. Using the circle/dot reticle will cut that down a little.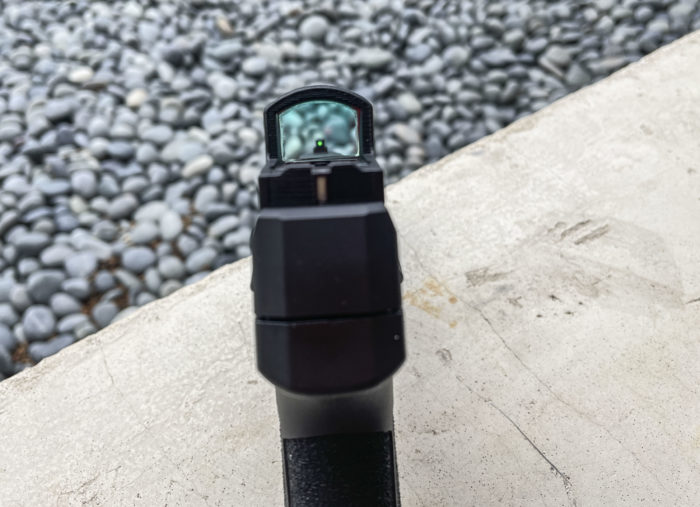 SIG says they've increased the toughness of the ROMEOZero Elite by mixing come carbon into the polymer material they use for the body. That's an upgrade to the the base ROMEOZero model housing that's a simply polymer.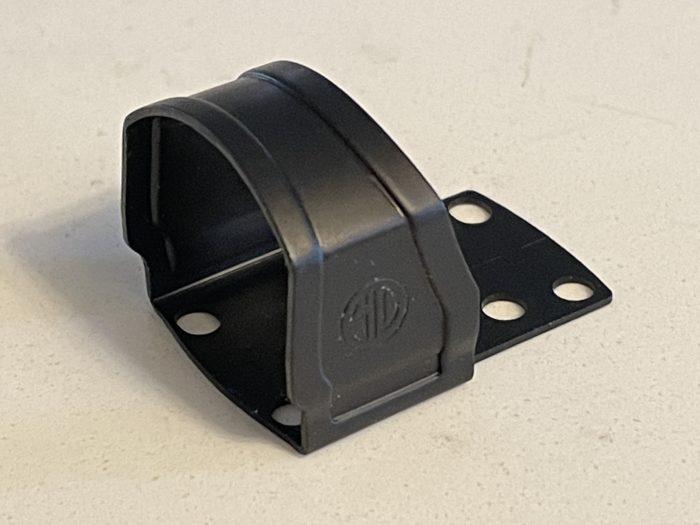 In the highly unlikely event that the standard housing isn't tough enough to stand up to the daily use you'll be putting it through, SIG ships the ROMEOZero Elite with a supplemental steel "shroud" you can mount. It will add a little extra height and width to the profile of the sight.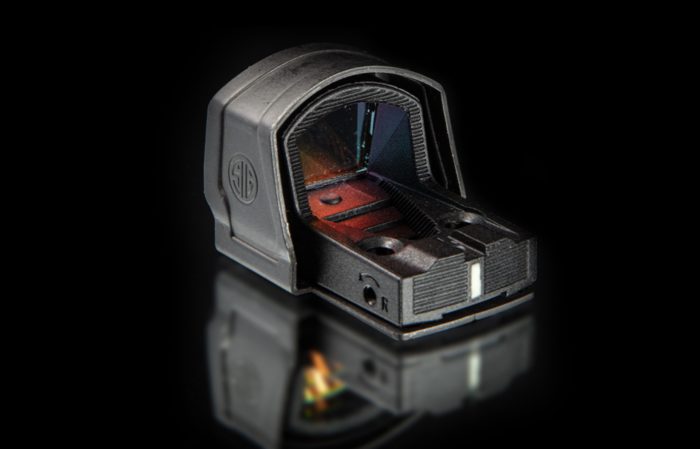 I mounted the shroud quickly just to try it, and dropped the mounted with the steel shroud. All was well. If you're paranoid about protecting your gear or regularly drop your gun for some inexplicable reason, the shroud might come in handy. For most of us, it will sit in a drawer.
I put the ROMEOZero Elite in a freezer and used it out in the rain. I shot it on the rimfire P322, carried it on a Hellcat and put a few hundred rounds down range with it mounted on a full-size P320. Nothing phased it.
The ROMEOZero Elite is small, flexible and I love the reticle options the circle/dot model gives you. I've accumulated a number of pistol red dots now and all of them get the job done. But the ROMEOZero Elite does what the other do and does it all better with options the others don't have.
Specifications: SIG SAUER ROMEOZero Elite Red Dot Sight
Magnification: 1X
Objective Lens: 24mm
Battery: CR1632
Reticle: 2 MOA Red Dot / 32 MOA Circle
Overall Length: 1.6 in
Overall Width: 1 in
Height: 0.98 in
Weight: 0.5 oz
Illumination Settings: 8
Run Time: Rated at 20,000 hours
MSRP: $219.99 (retail about $199 or $189 for the 3 MOA model)
Ratings (out of five stars):
Features: * * * * * 
A red dot is a red dot, right? Brightness, windage and and windage settings and that's it. Not this one. The ROMEOZero Elite has mounting screws for three of the most popular EDC pistols, a steel shroud for extra protection and this model has the circle/dot reticle giving you dot, circle or circle/dot options.
Optics: * * * * *
Most red dots a this price point use polymer lenses. The ROMEOZero Elite uses aspherical glass that's much more scratch resistant. It's got good edge-to-edge clarity with a slight blue tinge.
Function: * * * * *
Combine its compact size and with the circle/dot reticle combinations and the TAP reticle and brightness adjustments and the ROMEOZero Elite is easy to use and very effective in just about any situation. And $200 for an American-made EDC sight with these features seems very reasonable for an optic that does what this one can do.
Overall: * * * * *
The more I've shot pistols with red dots over the last couple of years, the more I've become a fan of having one on my EDC gun. I hadn't actually mounted one, though, until the last couple of months, though and this is the one I'm using. I'm a big fan of the circle/dot reticle in a compact sight of this size. I haven't found another micro red dot that can beat the ROMEOZero Elite on my Hellcat.
Read full article here