When we asked which classic firearm Colt should reintroduce a few years ago, a plurality of y'all voted for the Woodsman. While Colt hasn't made one since 1977, Standard Manufacturing has taken the helm and is now producing absolutely gorgeous, high-quality target/hunting pistols of the same style and build, which they call the SG22.
Available at the time of this review in five different finishes, TTAG got its hands on the case colored model and we won't be letting go of it.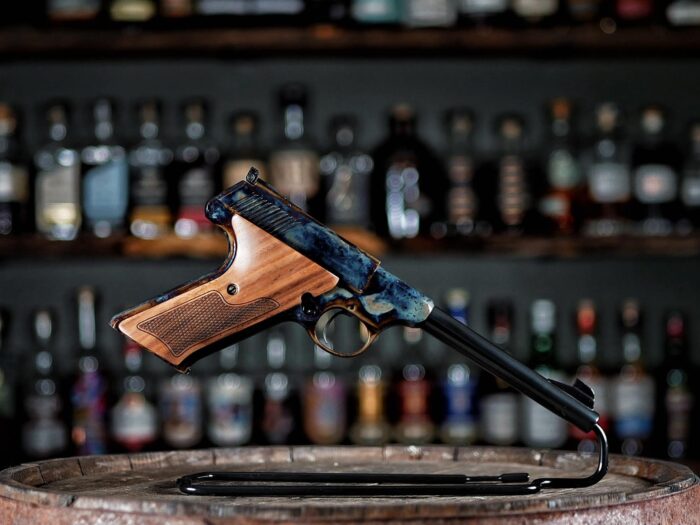 Needless to say, this is an incredibly beautiful gun. In keeping with my experience with other color case hardened guns, though, it's also immensely frustrating to photograph well.
The case colored SG22 is one of those things that you simply must see in person to appreciate, as the depth and intrigue and complexity of the CCH is flattened and deadened by the camera. All of the shifting colors and "life" of the finish disappear when the gun is frozen in time.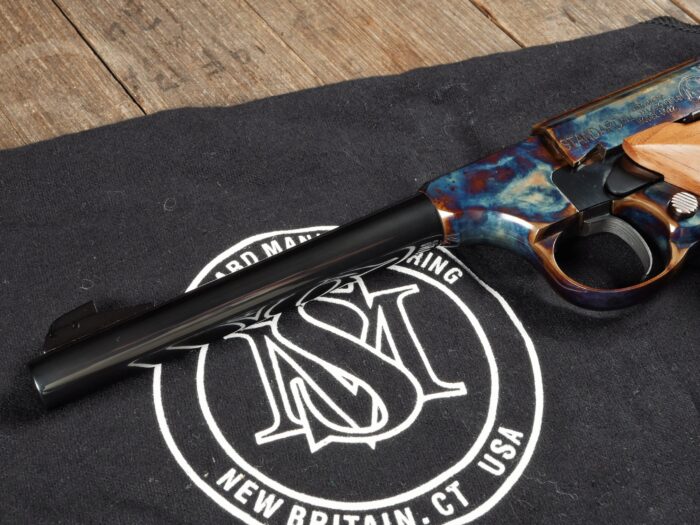 The entirety of the frame and slide are case hardened, but the barrel is blued. It holds its own against the CCH, though, as it's also done to old fashioned looking standards when they used to blue with animal bone and whale oil in a furnace to achieve a black-blue, highly-polished finish with amazing depth and uniformity.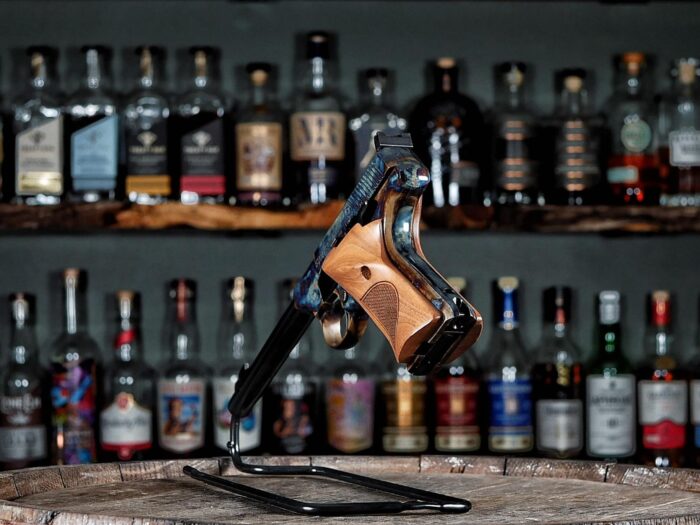 Granted I have no idea how the bluing or CCH is actually achieved on the SG22, but they're both stunning.
Likewise, the machining is great. Clean, straight, crisp lines, flats, and curves with no machine marks in sight and it's polished to perfection.
Made of real steel — no aluminum or polymer here — the SG22 has the heft, feel, and build of a gun made just like they used to make 'em.
The target-style walnut grips are designed for a right-handed shooter, with a "flat" panel on the right side and a thumb rest-equipped panel on the left. They're fairly nicely figured walnut and on most guns they'd look fancy, but the rest of the case hardened SG22 is so freakin' beautiful that I find myself craving some bougier grips.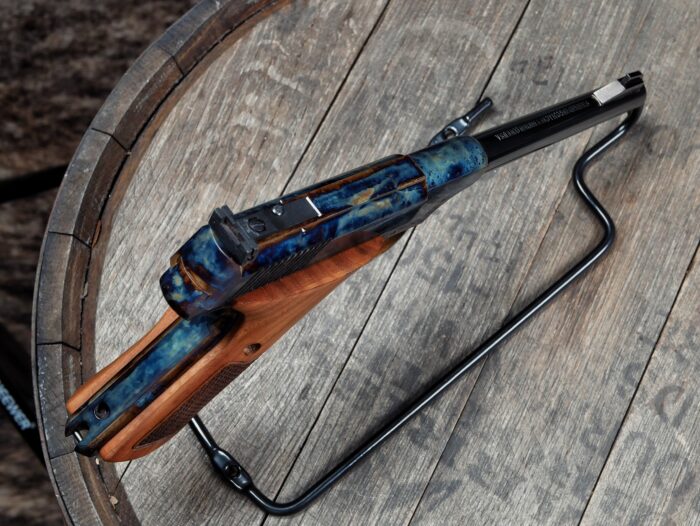 In keeping with the target/hunting style theme, the black rear sight is adjustable for both windage and elevation.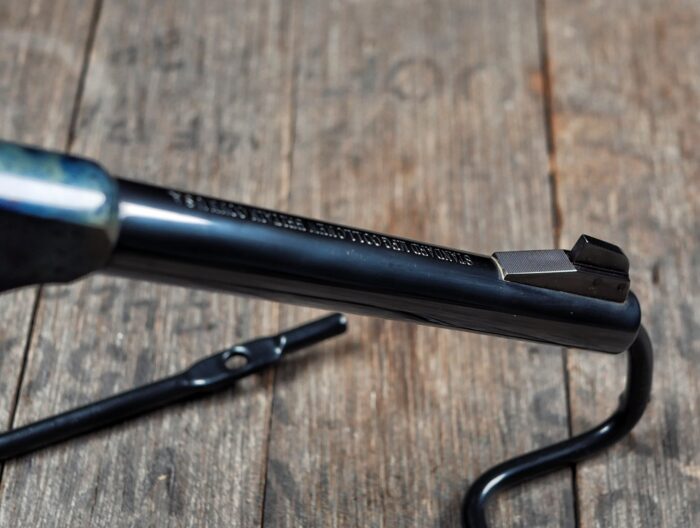 Up front is a prominent, fixed front blade. Though it's also all-black, it's large and crisp and easy to see, with just the right amount of light showing on either side of it when sighted inside of the rear notch for precise alignment.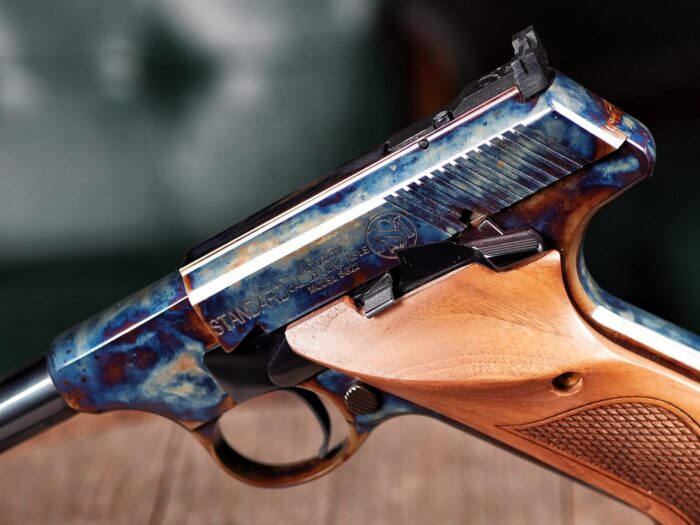 Also blued to a deep luster are the thumb button magazine release, the slide lock, and the manual safety. In its down position as seen above, the thumb safety is on "fire."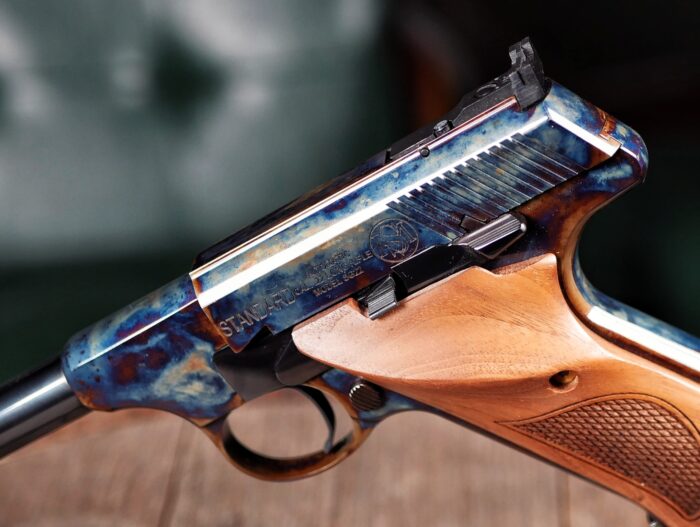 Up for "safe," where a hook on the safety indexes into a slot in the slide and locks it in place.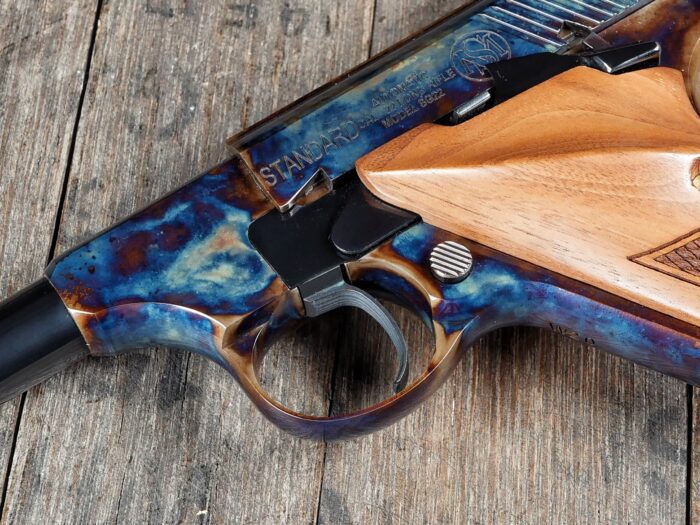 I really dig the thin trigger. It's machined, with nice serrations on the front and clean, rounded edges, but that sort of sheetmetal styling tickles my retro lust.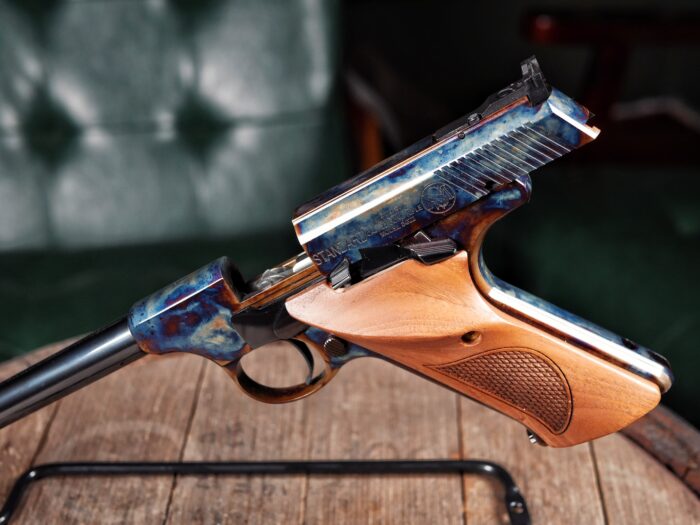 The Standard Manufacturing SG22 is a straight blowback design. Nearly the entire upper portion of the firearm is the slide, reciprocating on precisely-fit rails like a 1911.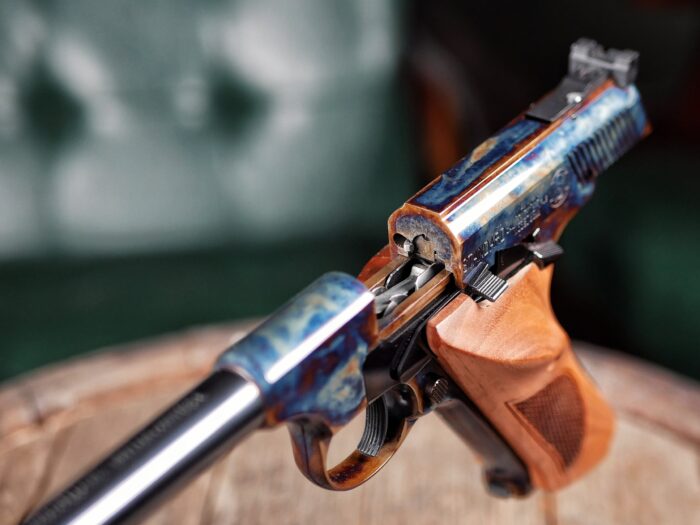 There's the breech face. It offered another excuse for me to take a photo of this beautiful gun. Extractor on the right, ejector on the left, empty brass ejected consistently and confidently off to starboard.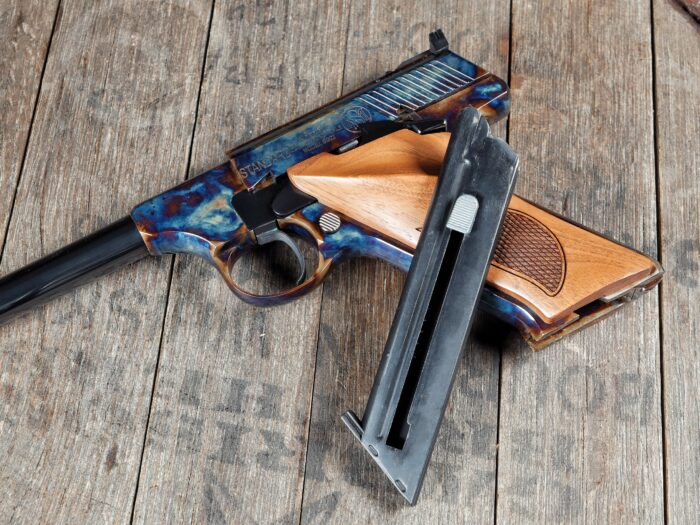 On the range, I found the magazine a bit tedious to load. While similar in just about every way to a Ruger Mk-series magazine, the bullets liked to stick in the front of the mag unless I held it in a particular orientation that helped the pills go down.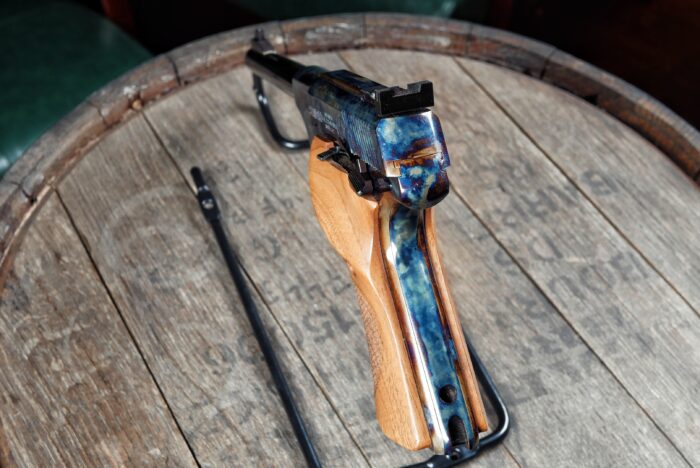 Aside from that minor annoyance, the SG22 was a joy to shoot. The grips are comfortable and the all-steel and -wood .22 LR shoots nice and soft.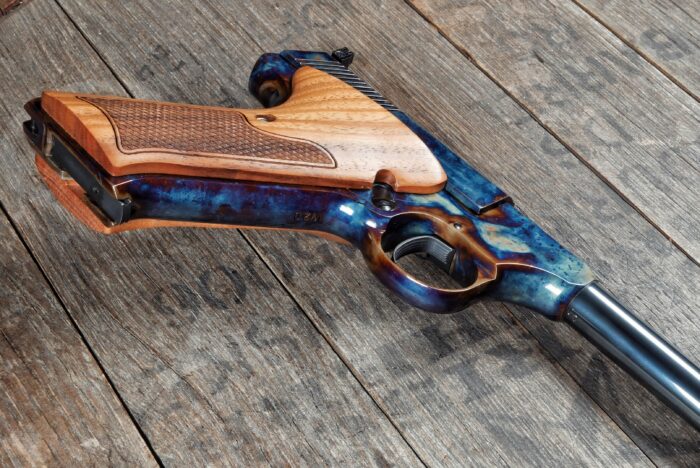 While it breaks at 3.5 pounds, the trigger could use some refinement. It has a touch of grit that I believe would mostly work out on its own over the course of 500-plus rounds or could be addressed with a little stoning on the sear surfaces, but it also has some creep that surprised me.
It isn't bad, generally speaking, I just suppose that given the level of care and refinement apparent in the rest of the gun I was expecting a totally clean, crisp, creep-free trigger.
Okay, one more trigger nitpick. There's no perceptible reset. The trigger goes forward until it stops, but at no point during that travel do you hear or feel a click or other indication that it has reset. Realistically this is a non-issue for target shooting or hunting, but it's such an anomaly to me nowadays that I felt it worth noting.
On a scale of 1 to 10 for semi-auto pistol triggers I'd give it like a 6. I was just expecting an 8+ is all.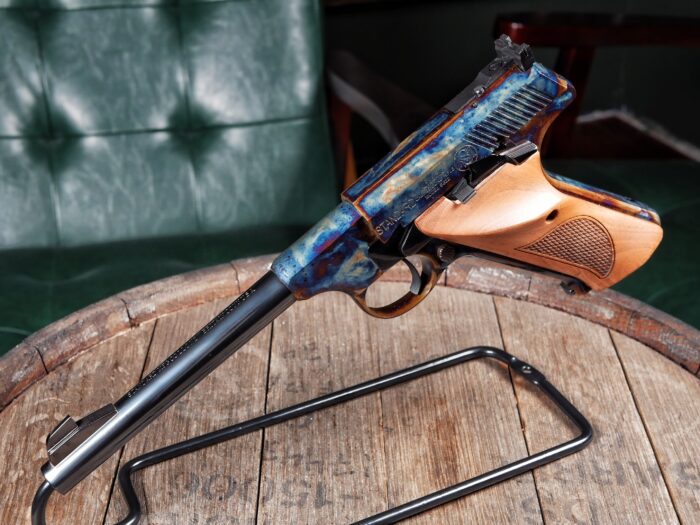 I shot four brands of ammo through the SG22, all different bullet weights and velocities, and it fed, fired, and ejected all of it save for one dud round.
At 25 yards I was shooting 1.5- to 2-inch groups off a sandbag, which, truth be told, is as good as I'm capable of shooting with iron sights.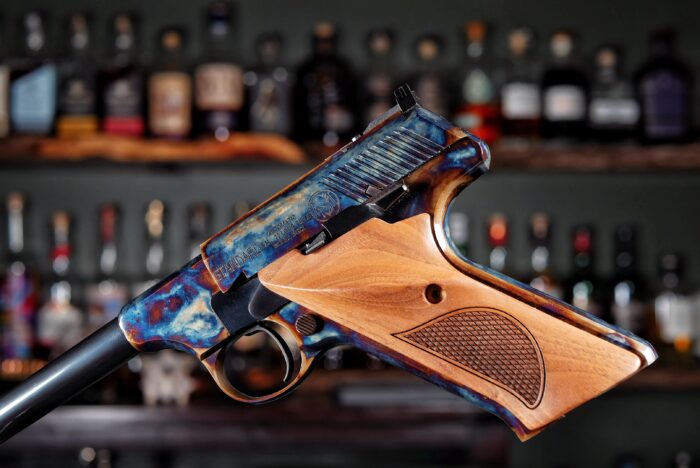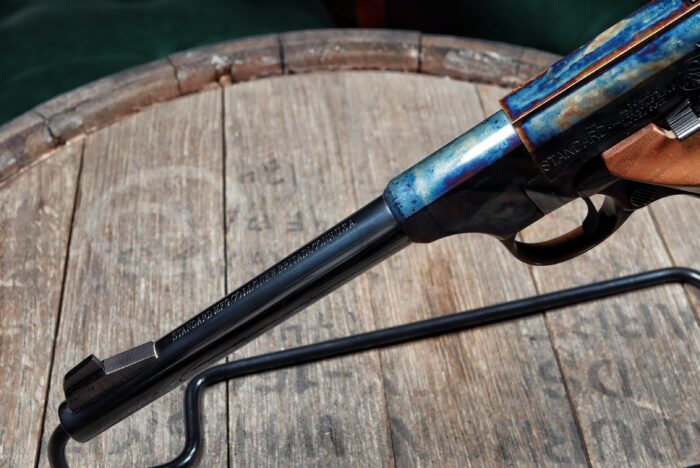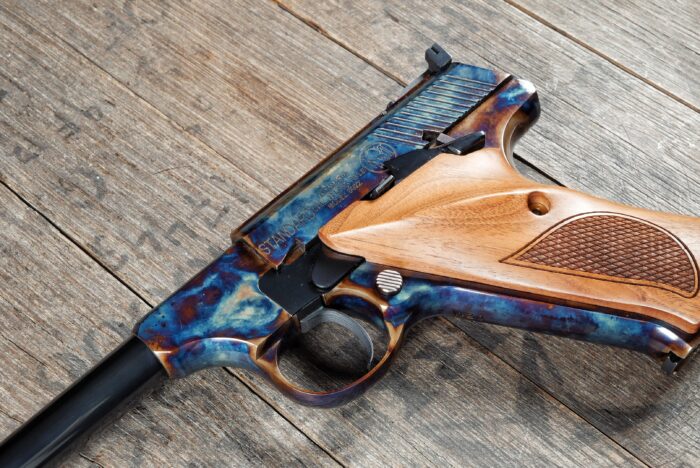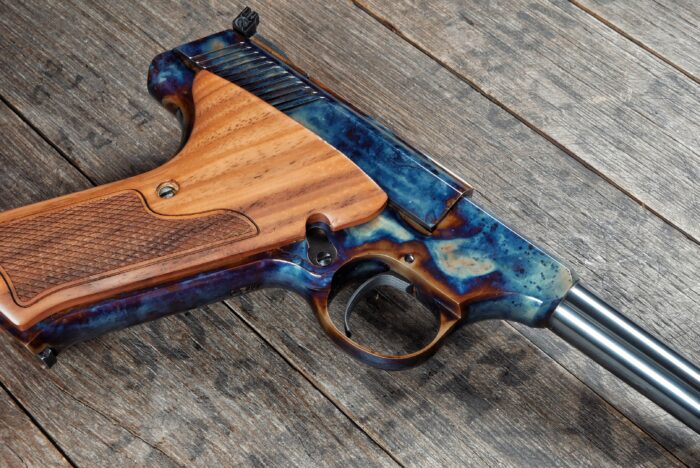 Not bad, right? The Standard Manufacturing SG22 is an heirloom piece that also happens to be a fantastic shooter. It's smooth, it's accurate, it's fun, it's reliable. It's quite the looker.
They don't make 'em like they used to . . . except when they do.
Specifications:

Standard Manufacturing SG22 Case Colored
Caliber: .22 LR
Barrel Length: 6 5/8″
Sights: Fixed Front & Adjustable Rear
Grips: 2 Piece Walnut
Finish: Case Colored
Engraving: None (also available in an engraved version)
MSRP: $1,399
Ratings (out of five stars):
Overall  * * * * 1/2
Clean up that trigger and it's a solid 5-star gun. This is the total package right here; quality, reliability, accuracy, and head turning good looks.
Read full article here