The Buffalo grocery store killer who murdered 10 people a year ago bought his New York-compliant AR pattern rifle legally in New York. That was after he'd been taken into custody and ordered to undergo a psych evaluation because of threats he'd made about carrying out a shooting.
The AR he purchased was apparently equipped with an MA Lock from Mean Arms when he bought it. The MA Lock makes the AR a fixed magazine rifle, but the killer then drilled out the MA Lock, modifying the AR to take standard 30-round magazines.
As a result, New York Attorney General Letitia James filed suit today against Mean Arms in the Supreme Court of New York. James is suing Mean Arms for . . .
…aiding the illegal possession of assault weapons in New York, including the weapon used in the mass shooting in Buffalo in May 2022. New York law bans the possession of assault weapons and high-capacity magazines that hold more than 10 rounds of ammunition. Mean Arms manufactures, sells, and distributes a magazine lock, known as the MA Lock, that is marketed as a device to lock a magazine onto a semiautomatic rifle. However, the lock can easily be removed so that detachable magazines, including high-capacity magazines that hold more than 10 rounds of ammunition, can be inserted into a rifle. …
The lawsuit alleges that the company deceptively and falsely advertises that installing an MA Lock on a weapon makes it legal in New York, thereby aiding and abetting the illegal possession of assault weapons in New York. Through her lawsuit, Attorney General James seeks to stop Mean Arms from doing business in New York and to require the company to pay restitution, damages, and civil penalties for its illegal practices that violated state laws and caused irreparable harm.
So just to sum up, Mean Arms makes a device — the MA Lock — that converts a standard AR pattern rifle into a fixed magazine rifle for use in ban states. The Buffalo killer legally purchased a rifle that was equipped with an MA Lock, but then drilled it out. And because the MA Lock can, with the right tools, be removed . . .
…the MA lock does not remove a semiautomatic rifle's capacity to accept a detachable magazine or convert illegal assault weapons into legal weapons in New York.
In other words, because the MA Lock can be extracted using power tools, it isn't sufficiently New York compliant. That, the AG alleges, constitutes "deceptive and false advertising." The AG also points to the fact that the MA Lock package includes removal instructions.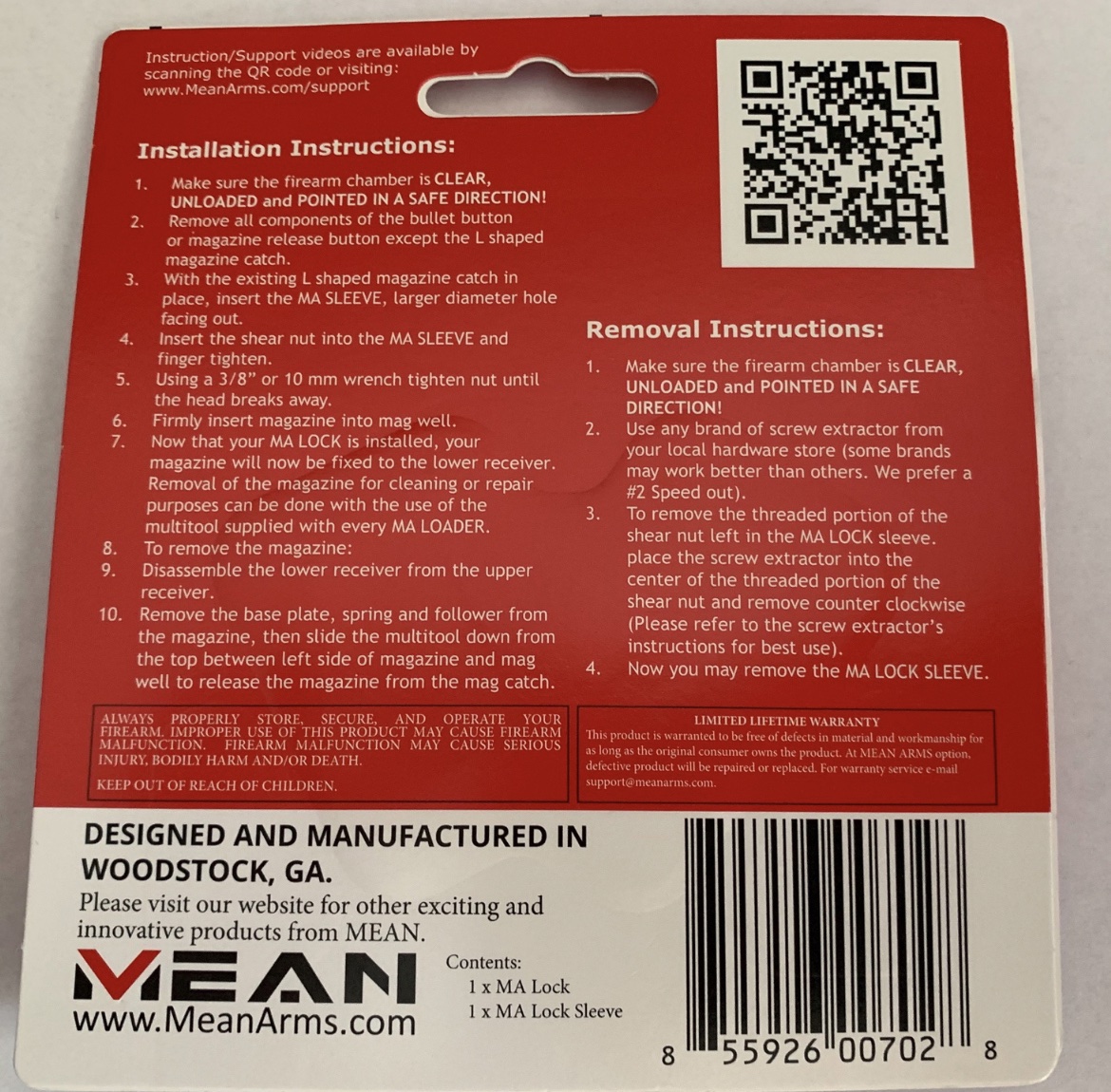 You can read the AG's complaint here.
Read full article here