It isn't every day that we see an entirely new category of gun or gear created, but this is exactly what the Atibal HYBRID12 scope has done. With a maximum zoom of 12x, it's just too much magnification to call this thing an LPVO, or low power variable optic. Heck, Atibal's X 1-10x was already pushing it, but the HYBRID12 1-12x pushed it over the edge. Welcome to a new category, the MPVO or medium power variable optic.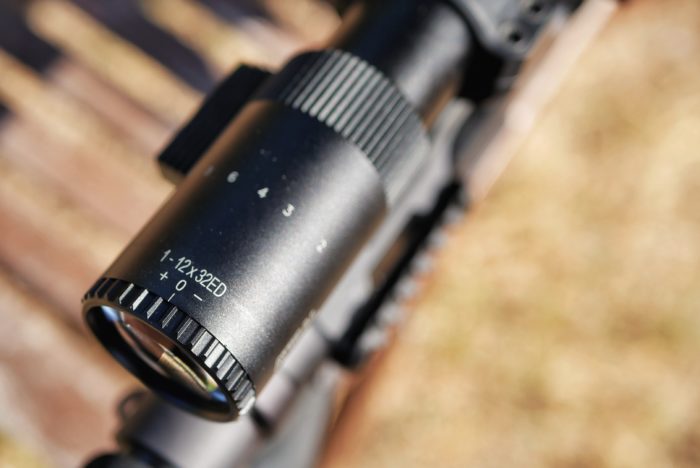 Available in both SFP (second focal plane, as reviewed) and in FFP (first focal plane), the new Atibal HYBRID12 uses Japanese ED glass from HOYA to provide a crisper, clearer, brighter picture than you'd likely expect from an optic at this price point ($899 MSRP) and with this zoom ratio.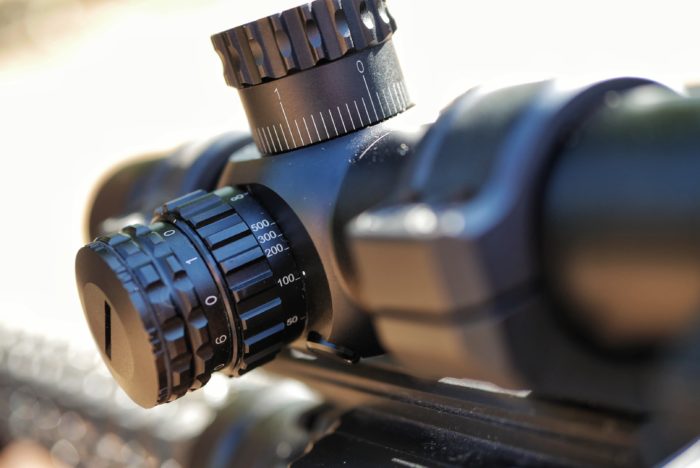 With the ability to go from 1x true no zoom for both-eyes-open kind of shooting — crank the illuminated reticle up and treat the HYBRID12 like a red dot — all the way up to 12x power, parallax adjustment is a welcome feature.
On the left turret, outside of the parallax dial, is the reticle illumination dial. Brightness settings from 1 to 6 are available with "off" positions between each. Given the option between this and 12 brightness settings with an "off" only at one end of the dial, I'd take this ever day. Less granularity, but an "off" position right next to your most commonly used setting.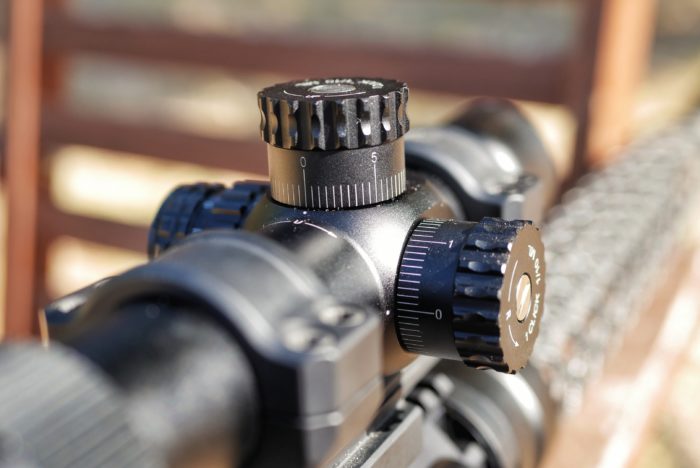 Lift up to unlock the elevation and windage turrets. Each click is 1/10 MIL (0.1 MIL).
The HYBRID12 has a maximum elevation adjustment range of 86.5 MILs and a max windage adjustment range of 80 MILs. Its 35mm diameter main tube helps squeeze out those solid adjustment numbers and allows for the 1-12x magic.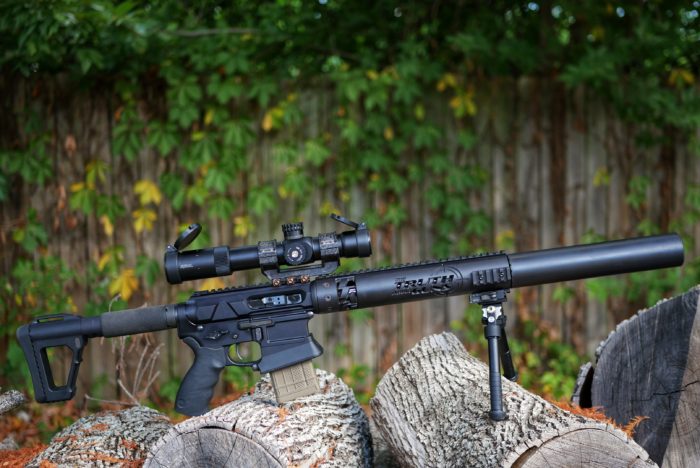 Here she is on The Pig Truth (which recently took down a nilgai) in a forged carbon fiber cantilever scope mount from Black Collar Arms. At 11.25 inches long and weighing in at 24.8 ounces, the HYBRID12 is about the same size and weight as most mid-zoom scopes (e.g. a 4.5-14x) but its packing that whopping 12x zoom ratio (going from 1x to 12x) instead of an easier-to-achieve ~3x ratio (going from 4.5x to 14x).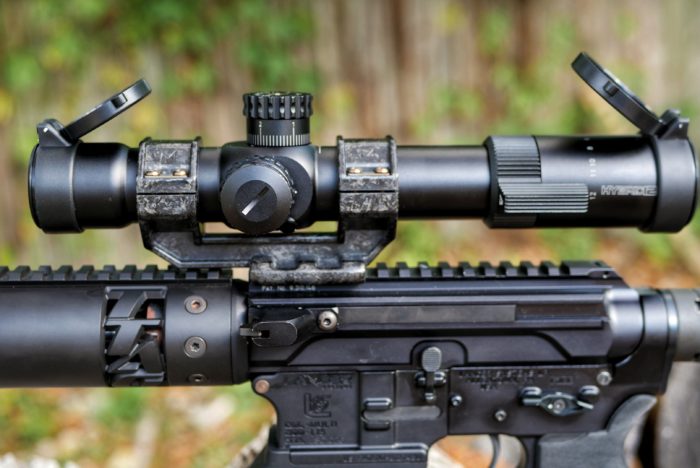 The only physical tradeoff, perhaps, for achieving that impressive zoom ratio is requiring a bit more room for lenses to move. This makes for a lot more tube real estate behind the HYBRID12's turrets than in front of them.
While this never caused an issue for me running the HYBRID on four different guns (three AR variants, one Pork Sword Rifle), I can be weird about symmetry sometimes and the slightly lopsided aesthetic of the HYBRID12 and how I had to align rings or mounts onto it sometimes caused my brain to twitch.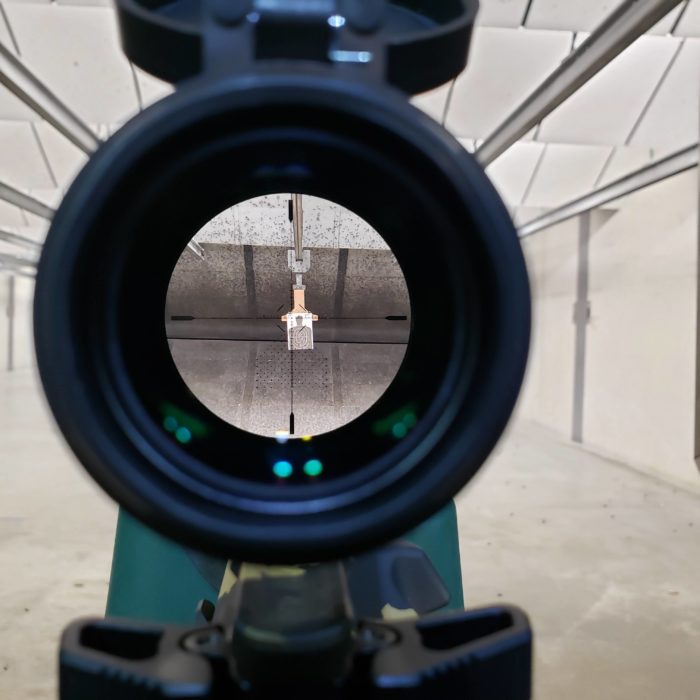 From behind the Atibal HYBRID12, though, everything looks really good. That Japanese glass is fantastic and it's awesome to see in a scope at this price point. Whether on 1x or 12x, the image is crisp and bright.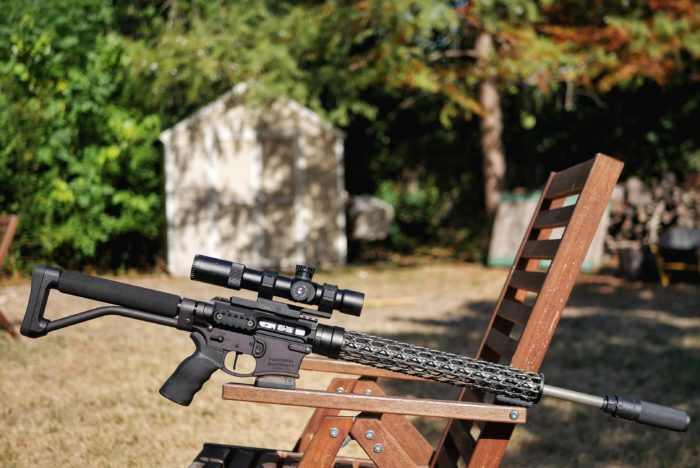 Whether on a short barrel hunting gun like The Pig Truth or the Pork Sword Stalker, or on something geared more toward target shooting and predator hunting, like the .223 Wylde build pictured above, the HYBRID12 is at home. It provides enough magnification for precise shots at extended ranges (heck, I've made reliable hits at a mile with a scope at 12x zoom), yet doesn't leave you in a lurch if you need to take quick shots at short ranges.
A couple years ago I experienced the benefits of this very scenario with an Atibal X, having transitioned in the same day from shooting hogs at a couple hundred yards of range to stalking through a densely treed area where a red dot would have been the ideal optic. Turned out that the X, reticle illuminated and at 1x no zoom, is effectively the same thing.
It allowed me to take both-eyes-open, snap shots at a sounder of hogs that I nearly stepped on, surprising both of us. Likewise, the HYBRID12 provides a 1x with a very generous eye relief and exit pupil along with almost no distortion or change to your view at all.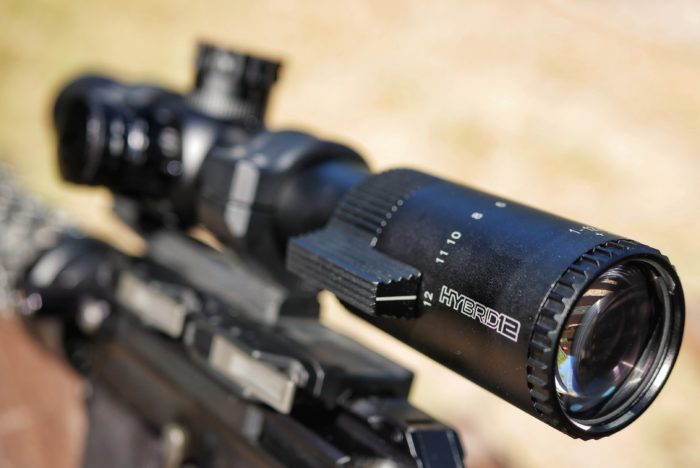 Obviously a red dot is smaller and lighter, plus gives you unlimited eye relief. Typically the illumination on a dot optic will also be brighter, so it's more visible in full sun. Then again, a scope like the HYBRID12 has an etched reticle so its ability to compete with full sun brightness is much less important.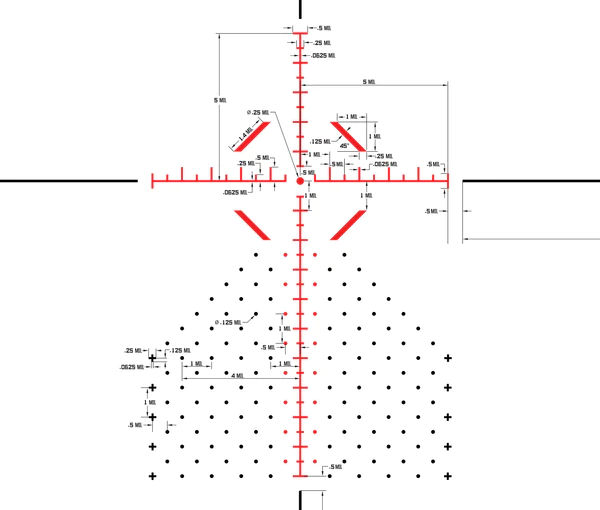 Speaking of reticles, the HYBRID12's SPR v1 reticle offers all of the ranging and holdover references you could desire. In second focal plane flavor, as I tested, the reticle stays the same size regardless of zoom level.
At 1x, the angled lines around the center dot help draw your eye to the middle for that eyes-open, red dot-style shooting. At 12x, there's a whole "Christmas tree" of black dots for wind holds, while the center tape can be illuminated for elevation holds and half-MIL wind holds.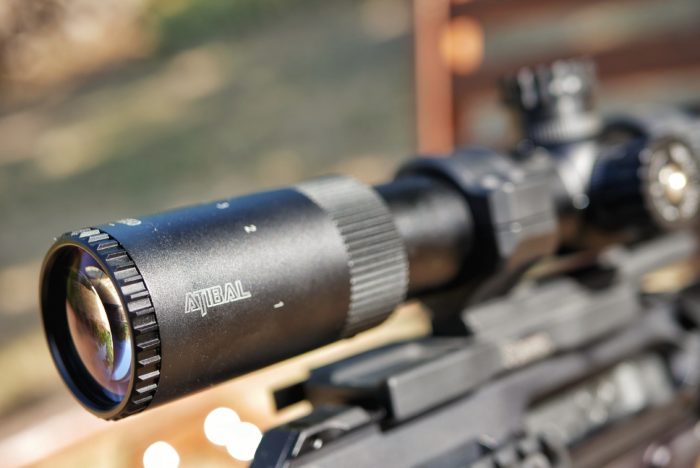 On the range and on a three-day hunt, I found the Atibal HYBRID12 to be a fantastic companion. The versatility of a scope like this — the MPVO — is hard to overstate. There's effectively no shot or scenario, other than shooting for really tight groups at long ranges, that can't be taken confidently with the HYBRID12.
An illuminated reticle designed for both close and long range shooting and that 1-12x magnification range allows a whole world of possibilities.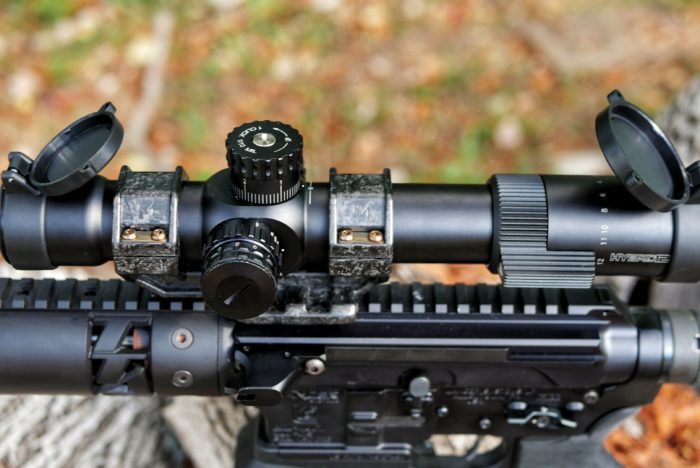 Mechanically, the HYBRID12 was solid for me. I sighted it in on four different firearms and shot it with a couple of heavy-recoiling cartridges. Zero never shifted and no other issues of any sort were encountered.
Turret clicks are crisp and, as far as I could tell from normal sighting in and use, accurate. I love exposed, locking turrets like this.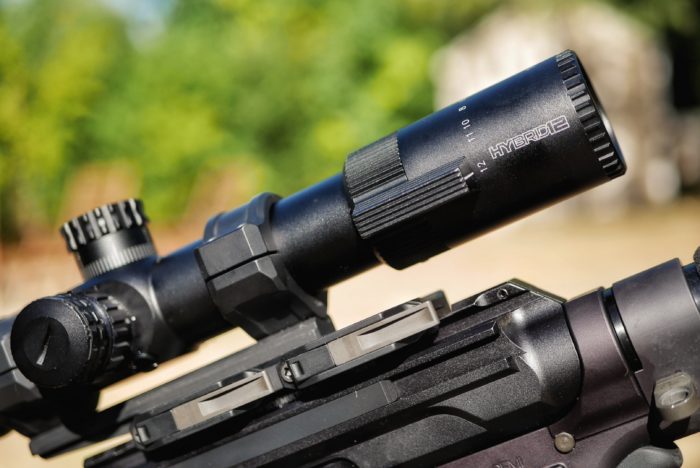 On many scopes the magnification dial is quite stiff and can be difficult to move without a throw lever. This wasn't the case on the HYBRID; its dial moved smoothly with gentle resistance. I found the built-in lever/flange more than sufficient to quickly and confidently adjust zoom.
The hunt that the Atibal HYBRID12 joined was predominately a night hunt with guns equipped with thermal optics. However, each evening, in the hour before dark, we sat out there with day optics hoping to spy a coyote (and sometimes calling them in), axis deer, or hog before dark.
Equipped with the HYBRID12 on the AR-15 seen in the lead photo here plus two other guns, one with a high-end EOTech Vudu and one with a high-ish-end SIG SIERRA6, the much less expensive Atibal's ability to see well into dusk hours was impressive. It absolutely holds its own thanks to that Japanese glass.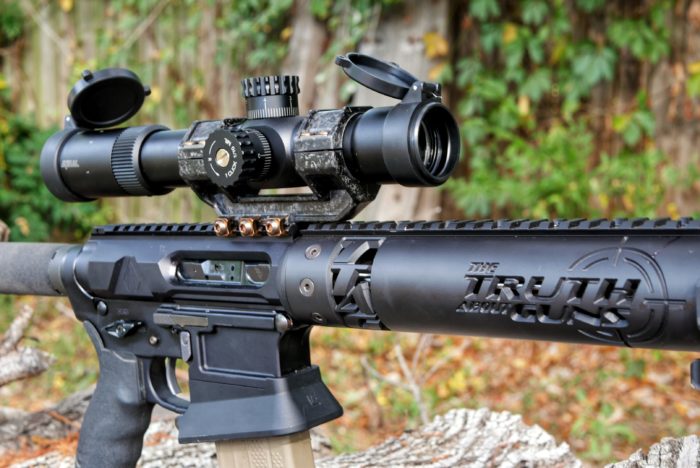 If no obvious issues present themselves, when I'm reviewing a product I often think about what I would change if I could. In the case of the HYBRID12 there's one thing comes to mind after loaning it to a friend to use in the field: I'd give it a larger objective lens.
As a seasoned shooter who's used to finding the picture behind a scope and used to taking a consistent cheek weld, the small-ish exit pupil (the size of the image, i.e. how precisely centered your eyeball needs to be behind a scope) of the HYBRID12 at full zoom wasn't a problem for me.
For my buddy on the hunting trip, who only has a little bit of scoped shooting experience, it proved challenging for him to find and retain the scope picture at 12x zoom in a hunting style environment, which meant shooting from varied, often slightly odd positions.
A 32mm objective lens and a 12x magnification means an exit pupil of 2.67mm assuming there's nothing inside the scope that restricts it further (which there may well be). Bumping to a 40mm objective lens would increase the exit pupil diameter to 3.33mm at full zoom.
A noticeable objective bell would make the HYBRID12 deviate from typical LPVO aesthetics, but maybe an MPVO needs its own look, anyway.
As for my friend on the trip, I told him that if he was having issues quickly finding the picture in whatever shooting position he found himself in that he should just dial the zoom down to like 8x and he'd have a generous, forgiving eye box. He shot a piggy at about 140 yards with the HYBRID12, right as dusk was turning into night.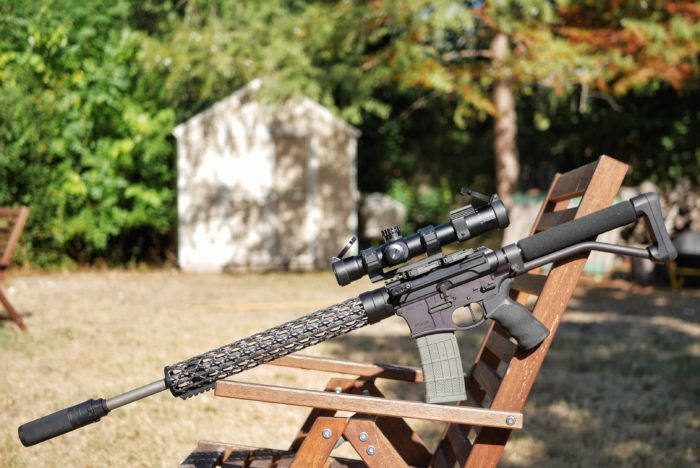 I absolutely love the versatility and utility of a 1-12x scope. It's a capable jack of all trades that makes a lot of sense on an equally capable carbine or hunting rifle that may find itself taking shots at any range.
At Black Collar we've been selling and suggesting the 1-10x power Atibal X for our Pork Sword Pistols, as they're extremely compact, handy guns that are great for hunting in tight environments (brush, trees, side-by-sides, etc) but, at the same time, are also extremely accurate and are capable of confidently harvesting a deer out to 500-600 yards or hitting steel out to at least double that. As we begin doing 16-inch rifle builds, we'll definitely start carrying and recommending the HYBRID12 as well.
I mention this for two reasons:
One, in the spirit of full disclosure as, in addition to a specific SIG optic and the Atibal X, soon the HYBRID12 will be a product I carry and sell at Black Collar Arms. I want to make any possible conflicts of interest known.
Two, the reason we carry and sell only a couple of specific optics is because they're great fits for the guns that we build and they offer a good value for the money. Through our distributors we could retail nearly every model from every brand you can think of, but we aren't a retail store. "Which scope would you recommend?" was one of the most common questions we'd get from customers buying our guns, and that's the reason Atibal's X and, as soon as I get around to it, HYBRID12 are on our website in the first place.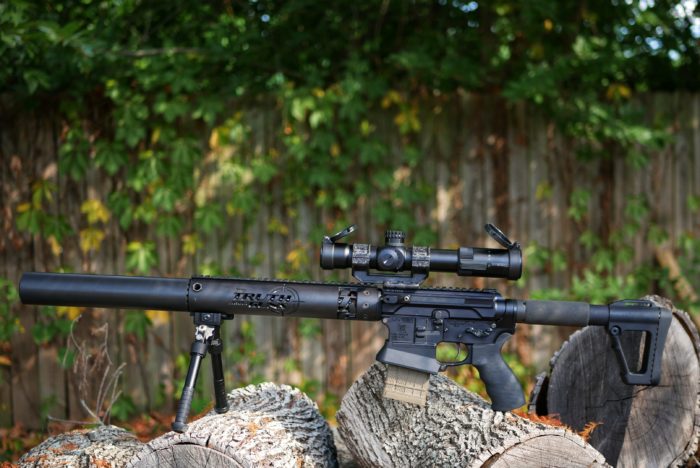 With Japanese ED glass, a great reticle, solid mechanicals, and that unheard of 1-12x magnification range, the Atibal HYBRID12 is a great scope for almost every use.
Specifications: Atibal HYBRID12 SFP
Magnification: 1-12x
Objective Lens Diameter: 32mm
Eye Relief: 3.5 – 6 inches
Field of View @ 100yds: 110ft @ 1x – 9.2ft @ 12x
Tube Size: 35 mm
Adjustment Per Click: 1/10 MIL
Max Elevation Adjustment: 86.5 MIL
Max Windage Adjustment: 80 MIL
Weight: 24.8 ounces with no mount
Length: 11.25 inches
Made of 6061-T6 aircraft grade aluminum
MSRP: $899
Ratings (out of five stars):
Overall  * * * * 
Atibal's HYBRID12 is one heck of a versatile optic, capable of doing duty as a red dot and a mid-long-range scope and everything in-between. With Japanese glass and a great reticle, it's a lot of scope for the money. Like I think I did when I reviewed the X back in the day, I'm taking a star off mostly because the 35mm tube is annoying to find scope mounts and rings for. Also, in the case of the HYBRID12 here, I do think a larger objective lens would provide noticeable benefit as well as help define the new segment this scope has created; the MPVO.
Read full article here