By Jovana Gec and Dustan Stojanovic, AP
The first shooting left Serbia weeping. The second set off waves of soul-searching in a deeply divided nation, awash in weaponry, where war criminals are glorified and memories run deep of years of civil war.
Two mass killings in two days. Nineteen people dead and 21 injured.
"We walked around like zombies for 24 hours, not believing what has happened and looking for reasons," President Aleksandar Vucic, a populist authoritarian who began his political career as a far-right Serbian nationalist during the Yugoslav civil wars, said Friday in a nationwide TV address.
In Thursday's attack, a gunman apparently firing at random killed eight people and wounded 14 in two Serbian villages, authorities said, shaking a nation still in the throes of grief over another mass shooting a day earlier. Police arrested a suspect Friday after an all-night search.
Vucic called the shootings an attack on the whole nation — and said the person arrested wore a T-shirt bearing a pro-Nazi slogan although he did not shed light on a motive.
The slayings came a day after a 13-year-old boy used his father's guns to kill eight fellow students and a guard at a school in Belgrade, the capital.
Public figures, politicians and experts appeared successively on TV Friday, desperately trying to explain the tragedies.
"This is a moment when a nation decides whether it will go along a healing path," actor Srdjan Timarov said on N1 television. "The only other way is to declare capitulation."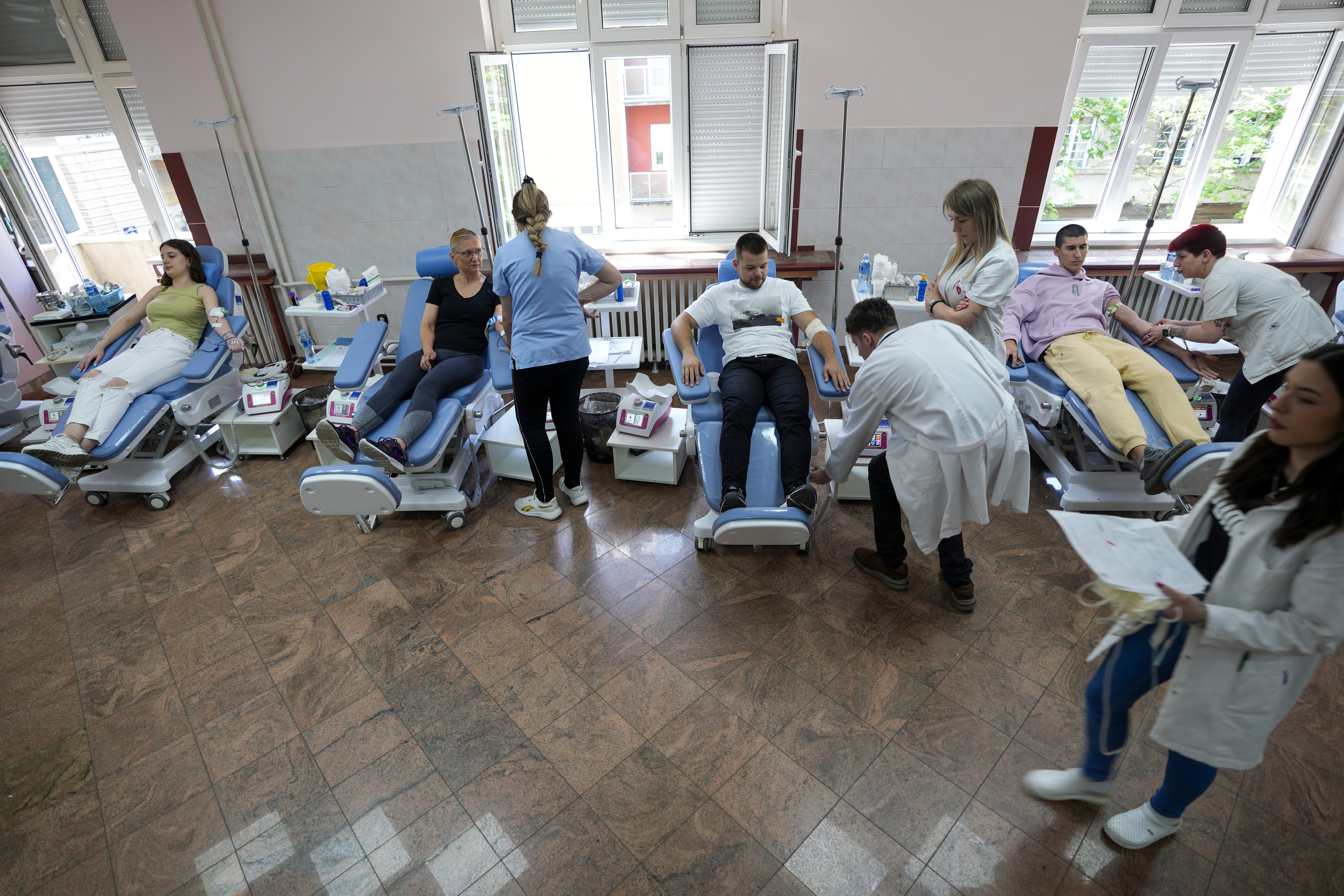 As a nationwide period of mourning began, TV screens were filled with people wearing black and music was banned from the airwaves as well as in cafes and restaurants. People lined up in Belgrade to donate blood, responding to an appeal for supplies needed to treat the wounded.
The assailant in Thursday's attack shot people in two villages near Mladenovac, a municipality located about 50 kilometers (30 miles) south of the capital, police said. Vucic said the gunman targeted people "wherever they were."
In the village of Dubona, blood stained a schoolyard where some of the shots were fired and also the ground near a bench where residents often sit to share a beer and chat.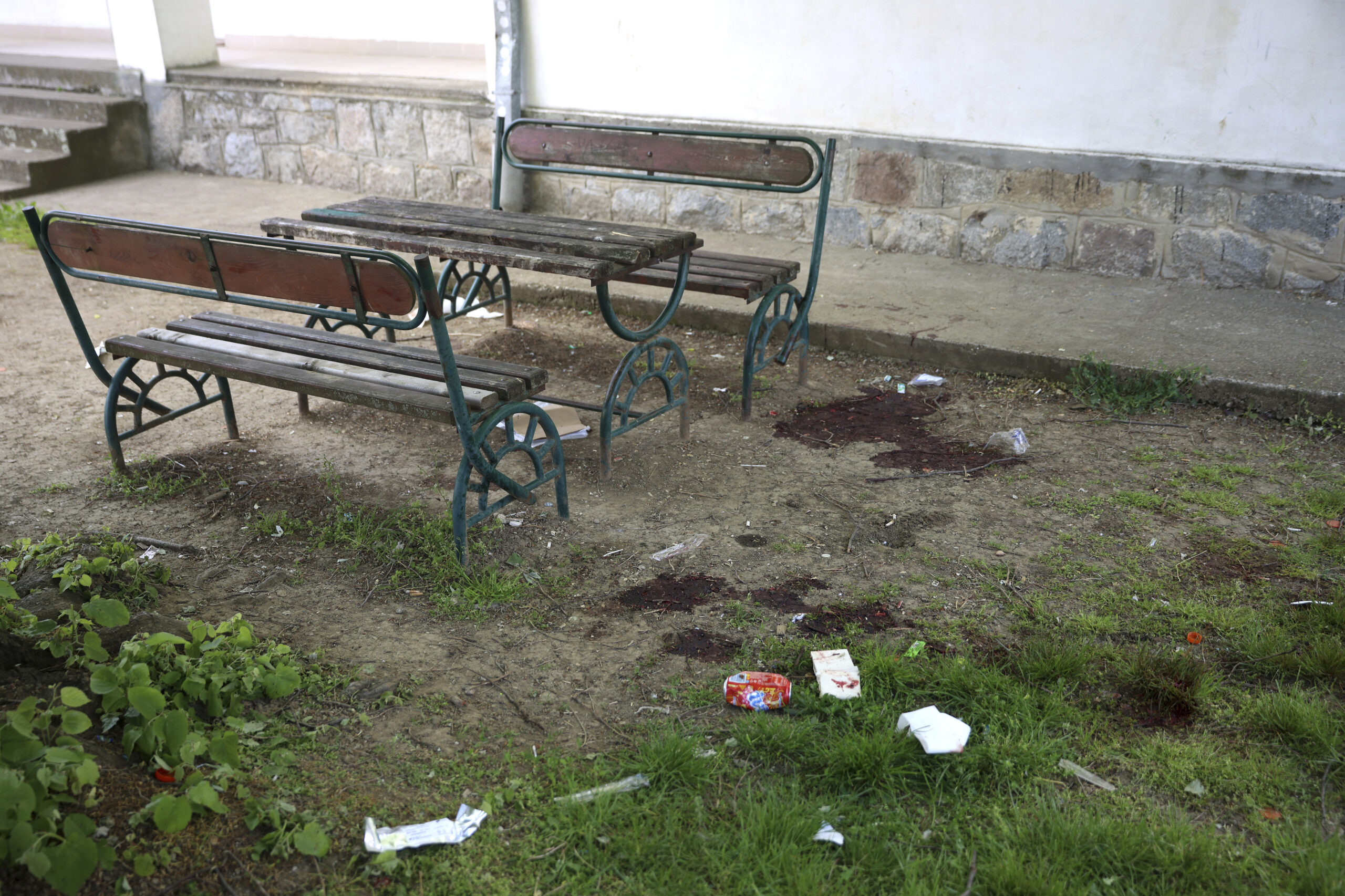 "I heard some tak-tak-tak sounds," recalled Milan Prokic, a Dubona resident. Prokic said he first thought people were shooting to celebrate a birth, as is tradition in Serbia.
"But it wasn't that. Shame, great shame," Prokic added.
Police said a suspect, identified by the initials U.B., was arrested in Vinjiste, a village 150 kilometers (90 miles) south of Belgrade. Officers searching a relative's home found a large stash of illegal weapons and ammunition, state broadcaster RTS reported.
Authorities released a photo showing a young man in a police car in a blue T-shirt with the slogan "Generation 88" on it. The double eights are often used as shorthand for "Heil Hitler" since H is the eighth letter of the alphabet.
Vucic said the suspect repeated the word "disparagement" but it wasn't clear what he meant.
The president vowed in an address to the nation that the suspect "will never again see the light of the day." He referred to the attack as an act of terror and announced tougher gun-control measures, in addition to those proposed by the government a day earlier.
He called for a moratorium on new licenses for all weapons in the next two years, a review of all current licenses, longer prison sentences for those who break the rules and "fierce" punishment for anyone caught with illegal weapons. But first, police will offer an amnesty to encourage people to hand over illegal guns — an action that has had limited success in the past.
"We will disarm Serbia," Vucic promised, saying the government would outline the new rules later Friday.
Read full article here