We love dedicated suppressor hosts! For the last couple years, chopping down the barrel length on Ruger Mark series .22 LR pistols short enough that the addition of a silencer brings it back to "normal" length has become increasingly popular. That has all been done aftermarket, though, at great expense and complication. No more! Enter the SSH, also known as the Ruger Mark IV Silencer Shop Host. Silencer Shop's press release follows . . .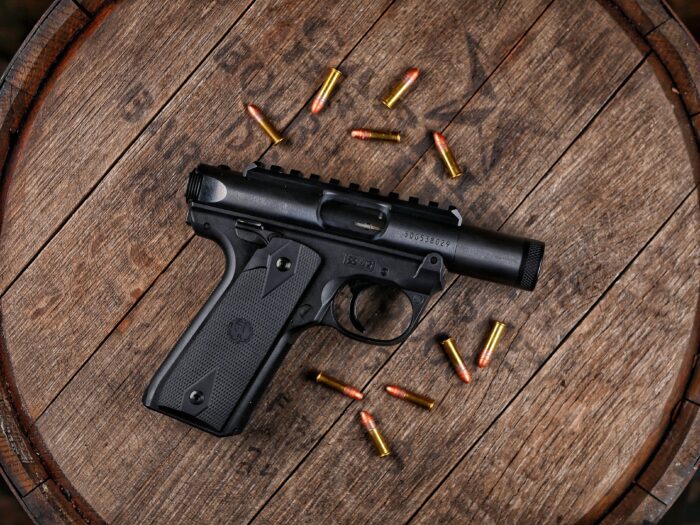 Silencer Shop Announces Suppressor-Optimized Ruger Mark IV Silencer Shop Host (SSH)
Austin, TX (05/05/2023) – Silencer Shop announced a new firearm in collaboration with Ruger, the Ruger Mark IV 22/45 Silencer Shop Host (SSH). Available exclusively at Silencer Shop, the SSH builds on the famous Ruger Mark IV platform and is optimized for use with a suppressor. 
The Ruger Mark IV SSH features a 3" cold hammer forged threaded barrel with a 1" profile to match most .22lr suppressors. This barrel length is designed to stabilize all .22LR ammunition and to keep velocities subsonic to maximize suppression. The Ruger SSH is equipped with rubberized grips, ambidextrous safety, and a Picatinny accessory rail for mounting optics.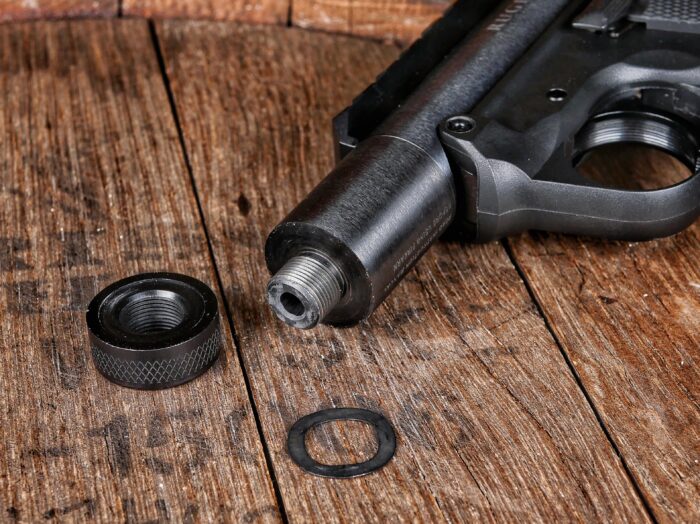 The blued alloy steel receiver ensures durability and longevity and includes a special edition laser-engraved Silencer Shop logo. The full-size frame integrates serrated front and back straps and checkered 1911-style grip panels. The Ruger Mark IV SSH includes three 10-round magazines and is packaged in a hard-sided carrying case. 
FURTHER INTEL:
Comfortable, precision-molded polymer grip frame with a serrated front strap and checkered back strap

Cold hammer-forged barrel results in ultra-precise rifling that provides exceptional accuracy and longevity

Ergonomic bolt stop

Checkered, 1911-style grip panels for a great appearance and comfortable, non-slip hold

Internal cylindrical bolt construction ensures permanent sight-to-barrel alignment and higher accuracy potential than conventional moving-slide designs

Contoured ejection port and easy-to-grasp bolt ears allow for durable and reliable operation round after round

Factory-installed Picatinny rail for easy mounting of optics

Ambidextrous manual safety can be converted to left side only with included washer

Conveniently located push-button magazine release on the left side of the frame

Magazine disconnect prevents discharge when the magazine has been removed

Three 10-round magazines.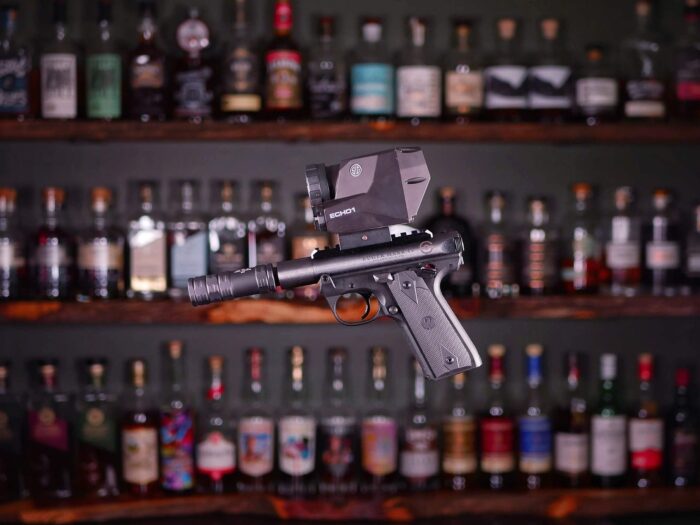 TECHNICAL SPECIFICATIONS:
Length: 7″

Height: 5.5″

Width: 1.22″

Weight: 29 oz

Barrel Length: 3″

Receiver Material: Alloy Steel

Grip: Polymer, Checkered 1911-Style

Finish: Blued

Grooves: 6

Twist: 1:16 RH
For additional assistance, contact us at [email protected] or 512-931-4556.
About Silencer Shop: Silencer Shop, founded in 2010, is the nation's largest NFA distributor and processor. Silencer Shop is responsible for submitting more than half of all ATF Form 1 and Form 4 applications annually. The Powered by Silencer Shop dealer network extends across America, with more than 5000 participating dealers, strengthening local gun stores, and giving responsible gun owners the easiest method to purchase NFA items. To learn more visit silencershop.com

For all media or press inquiries, please contact Silencer Shop Marketing at [email protected]

About Ruger: Sturm, Ruger & Co., Inc. is one of the nation's leading manufacturers of rugged, reliable firearms for the commercial sporting market. With products made in America, Ruger offers consumers almost 800 variations of more than 40 product lines, across both the Ruger and Marlin brands.
Read full article here