Axil introduced their new XCOR earbuds last week. The company tells us they've put a lot of time and effort into this design and after a busy week of shooting and travel with them, they have a very good product on their hands.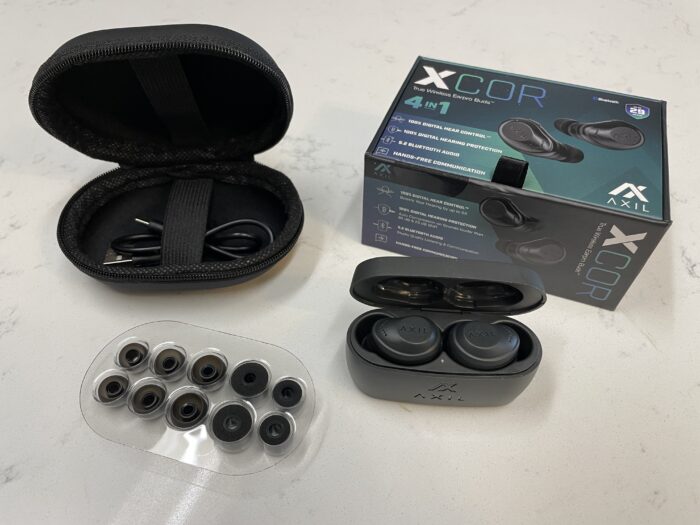 I've been a dedicated AirPods user for a couple of years. I don't go anywhere without them and I've tried some good tethered electronic earbuds including Axil's GS Extreme 2.0 buds. Wireless, however, is definitely the way to go.
What's more, Apple AirPods don't do me any good at the range. The XCORs were designed specifically for shooters, though non-shooters should be fans, too.
The Axil XCOR earbuds have a range of features that make them really functional and a pleasure to use. They come with silicon tips which are fine if you won't be shooting. But silicon doesn't provide enough sound insulation for most shooting situations. For that you need the foam tips that also come along with the XCOR buds.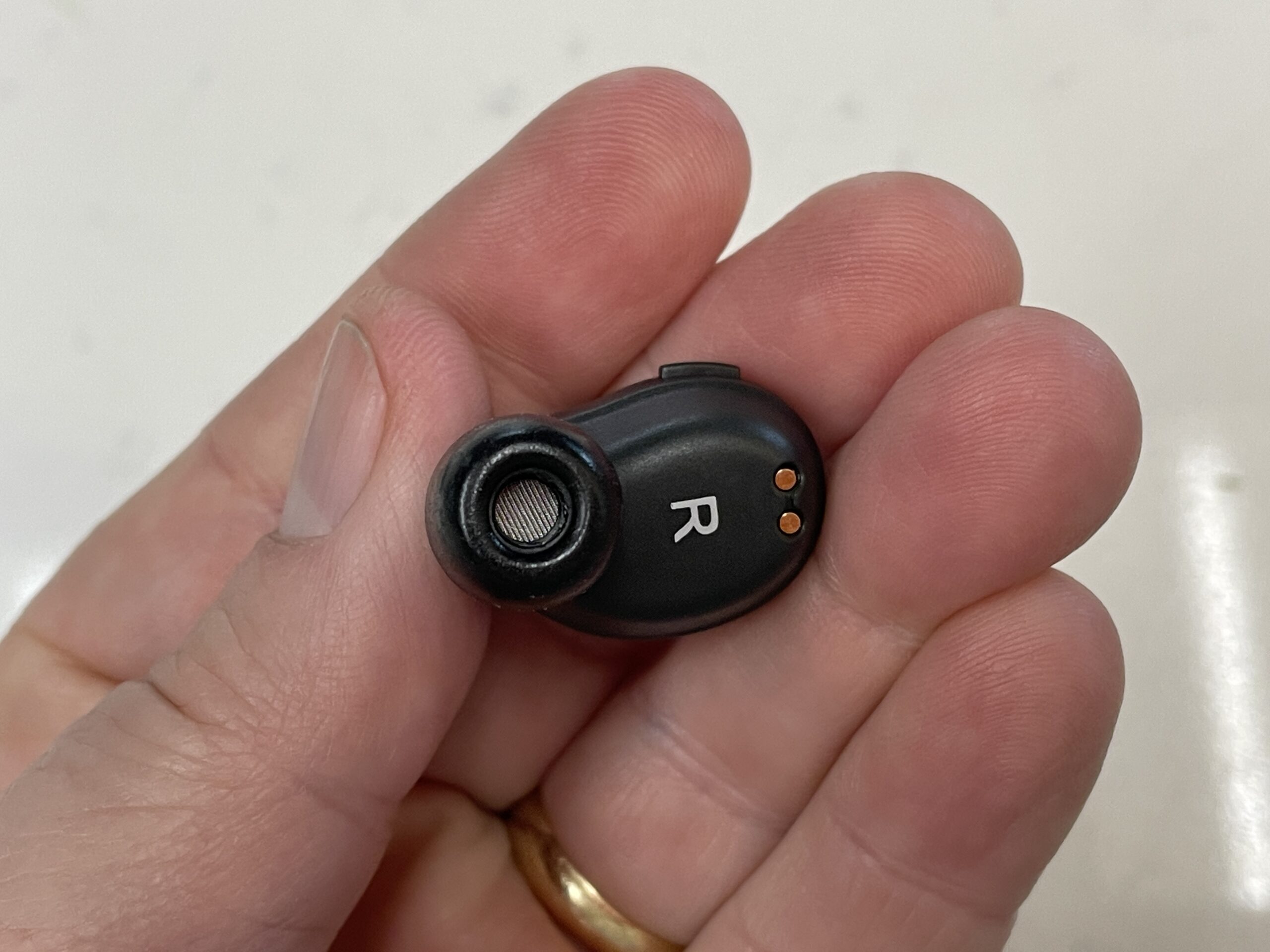 Axil packs three sizes to fit virtually anyone. They're very comfortable and do a great job of keeping range noise out. I've worn them for hours at a time without irritation.
In the week that I've had them, I've used them at both indoor and outdoor ranges. I've used them on airplanes and listened to music and podcasts while I walked the dogs. I never thought I'd find a better set of everyday Bluetooth buds than my AirPods, but the XCORs have officially become my first choice. They're that comfortable and functional, and the sound quality is better.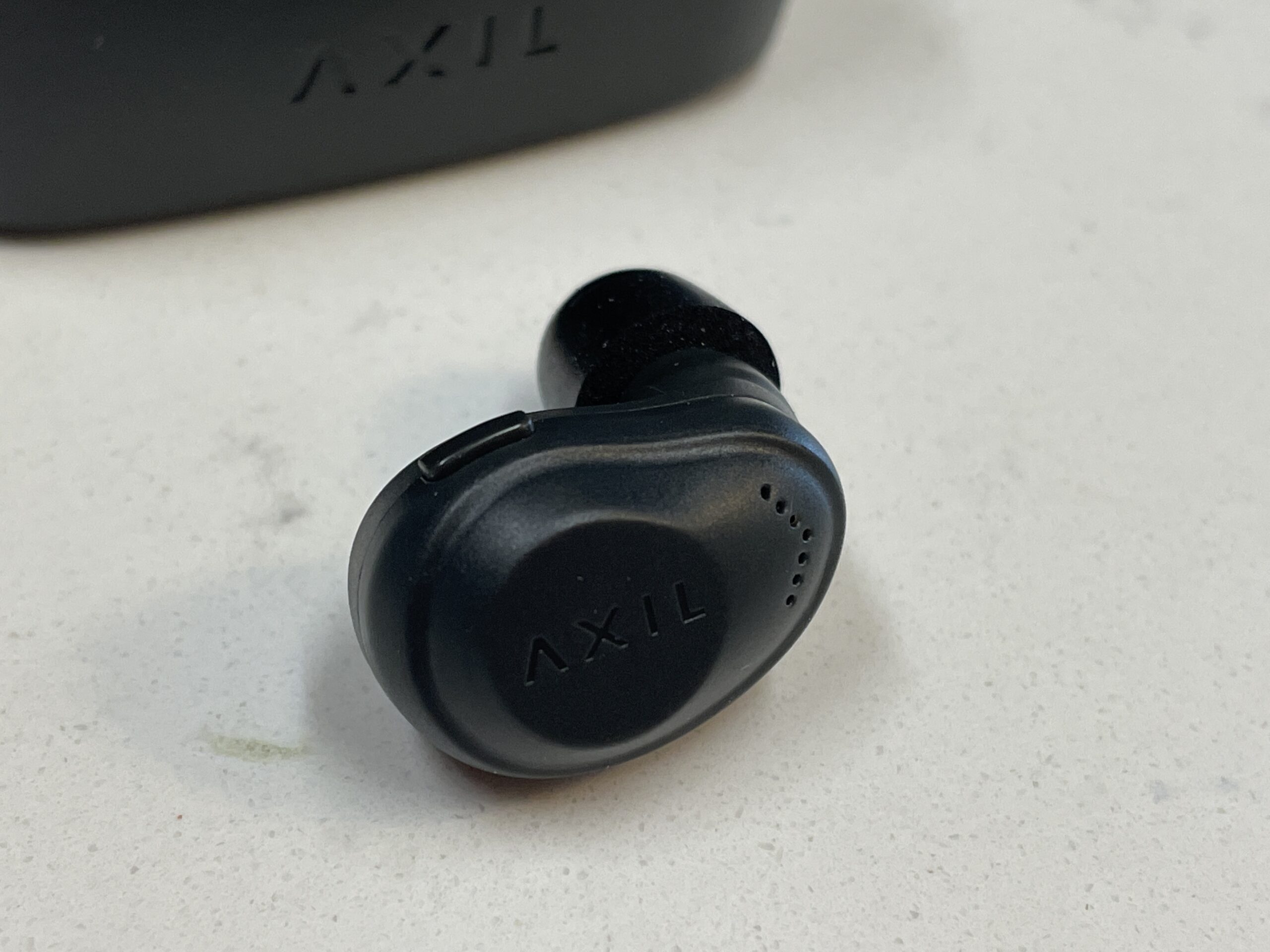 The XCOR earbuds pair easily with your phone and a quick look at the instructions reveal the range of controls they give you. You can keep the electronics off to isolate yourself from outside sounds as much as possible, or turn let ambient sound in with one touch. The little rectangular tab switch on top of each bud (above) gives you three different volume settings for ambient sound.
Various combinations of taps let you start and stop music, skip or restart songs/podcasts, pick up or hang up phone calls…pretty much everything you want a premium pair of Bluetooth earbuds to do.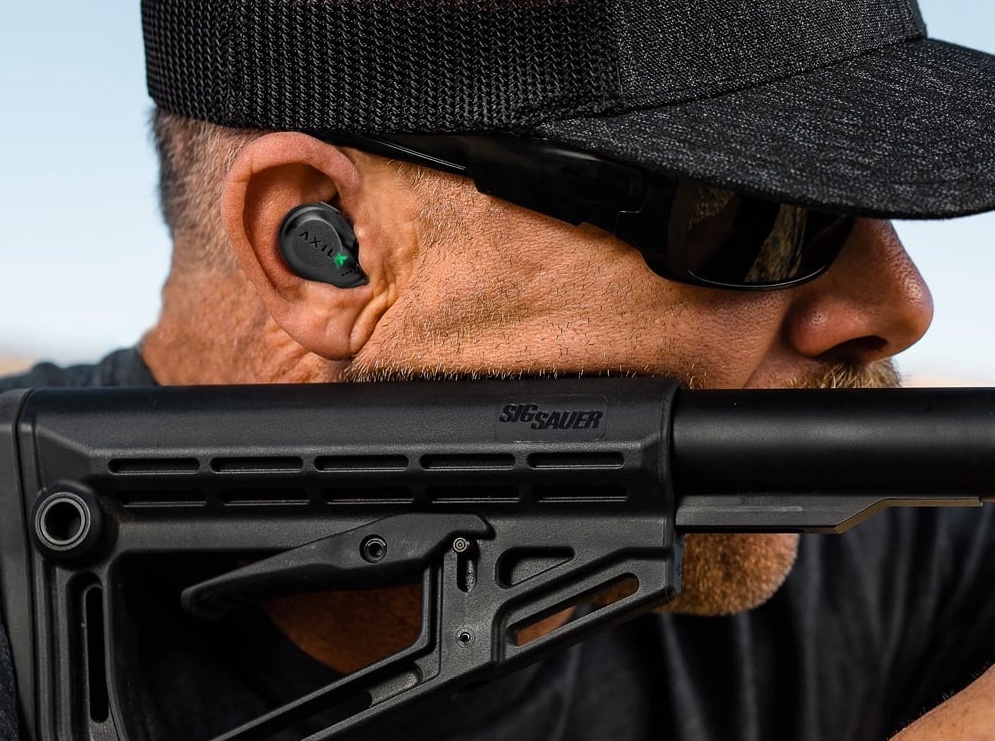 They also do a great job of protecting your ears when shooting without getting in the way like over-the-ear muffs do. They're rated between 19 and 29 dB of noise reduction depending on the tips used and the electronic mode.
With foam tips they do a great job of managing the sound of gunfire outdoors. They do well with handguns indoors, too, but you may want to double up if someone's shooting a rifle in the next stall. Axil has also done a good job of managing wind noise. You'll hear it, but it won't drive you crazy like it can with some electronic hearing protection.
Battery life is very good. They're rated for 12 hours on hear control only mode, six hours for Bluetooth only mode, and four hours Bluetooth and hearing control. That's significantly better than the tethered buds I've used and much better than AirPods. A fully charged charging case will give the XCOR buds two additional full charges before having to plug them in.
In short, I couldn't be happier with Axil's XCORs. No, they're not inexpensive. MSRP is $349 (though Axil is having an introductory sale here. These are exactly the kind of electronic hearing protection a lot of us have always wanted.
Read full article here