From Tonneau Buddy . . .
Everyone keeps stuff in their truck or SUV, things like jumper cables, window scrapers, tow straps and tools – even rain gear, a warm jacket or a pair of boots. The problem is, where to store it all and how to keep it organized. And transporting groceries often results in tipped bags when going around a corner, leaving you with a mess.
That's why there is Tonneau Buddy, for your tonneau-covered truck bed, and Cargo Buddy, for your large or small SUV! So, you don't have to worry about tools, gear, or groceries falling over or sliding around and getting damaged.
Tonneau Buddy's "ToughTube" PVC frame is easy to assemble and provides exceptional durability without the cumbersome weight. This frame is covered with a specially-designed, heavy-duty 600D "Burly Buddy" polyester fabric for a lifetime of reliable performance. The cover also has "No-Slide" rubber feet in all four bottom corners, which helps keep your Tonneau Buddy from sliding on the bed, bed lining or floor.
In order to assist with organization, Tonneau Buddy has an "InSlide" Repositionable Divider to segment the gear and "Pockets Galore" – 18 of them – to provide easy access to certain items or to safely store smaller equipment.
Not only does a Tonneau Buddy "storganize" your stuff, it has a premium "Resist-It" water-resistant coating that protects your gear from the water that makes its way to the bed valleys of the truck bed. You can also protect your stuff from dust, dirt and elements with an "Over-the-Top" Buddy Cover, which features a UV/water-resistant vinyl coating.
Tonneau Buddy also has "Right Height" adjustability, accomplished by spring-loaded buttons that lock into holes on the ToughTube frame. Custom fit the Tonneau Buddy to the bed of the pickup into which it will ride.
Some applications of the Tonneau Buddy will place the Storganizer in the rear of the truck, while others would be better served at the front of the bed. Go ahead and move it to whichever location fits your own needs and tie it in to the bed cleats using the tabs with grommets affixed to the side of the Tonneau Buddy.
Tonneau Buddies come in two sizes, one for large pickups and one for midsize pickups.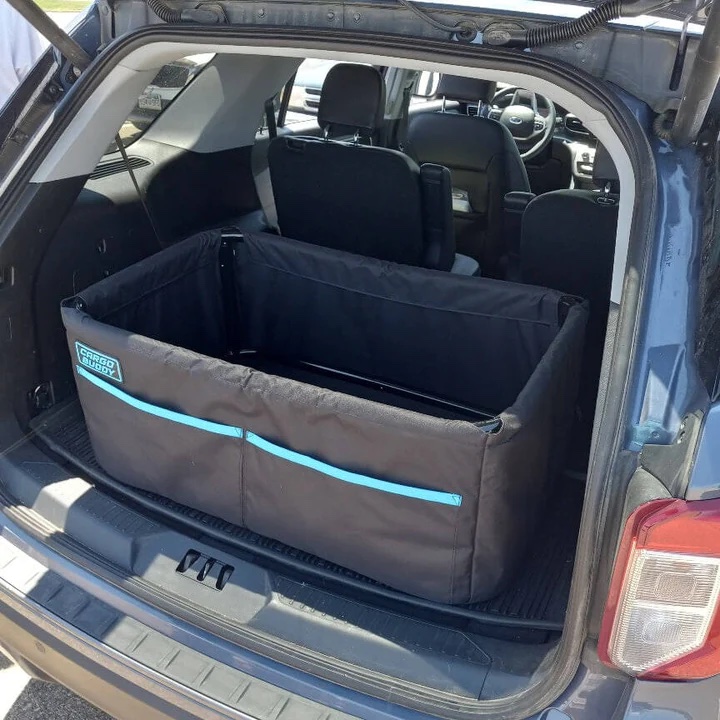 The Cargo Buddy is made specifically for SUV use. It's a fold-up, self-setting unit that sets up in mere seconds without tools and is ideal for storing supplies you want to keep in your SUV, or for trips to the grocery or retail store. And, when not in use, Cargo Buddy folds up flat to store out of the way.
For more information regarding Tonneau Buddy or Cargo Buddy, contact us through our website at [email protected] or call 720-459-8822.
Read full article here